At TalentLMS, our main goal is to ensure that your experience is smooth and hassle-free.
Our support team is here to help you with any questions you might have regarding your portal.
Any Administrator user of your portal has multiple ways to reach the TalentLMS support team. When contacting us, remember to provide us with as much info as you can in your message so that we can assist you more effectively.
Our support is available between 5 a.m. and 10 p.m. UTC, Monday to Friday.
Note: Our support team at TalentLMS is available to assist the Administrators of each portal exclusively, not Instructors or Learners, due to their restricted permissions.
A. Submitting a support ticket through your portal
This is the easiest and most efficient ways to get in touch with our support team.
To send us a ticket through your portal:
1. Log in to your TalentLMS account, hover over Help (1), and click Contact Support (2).
2. Fill out the form with your query and click Next (3).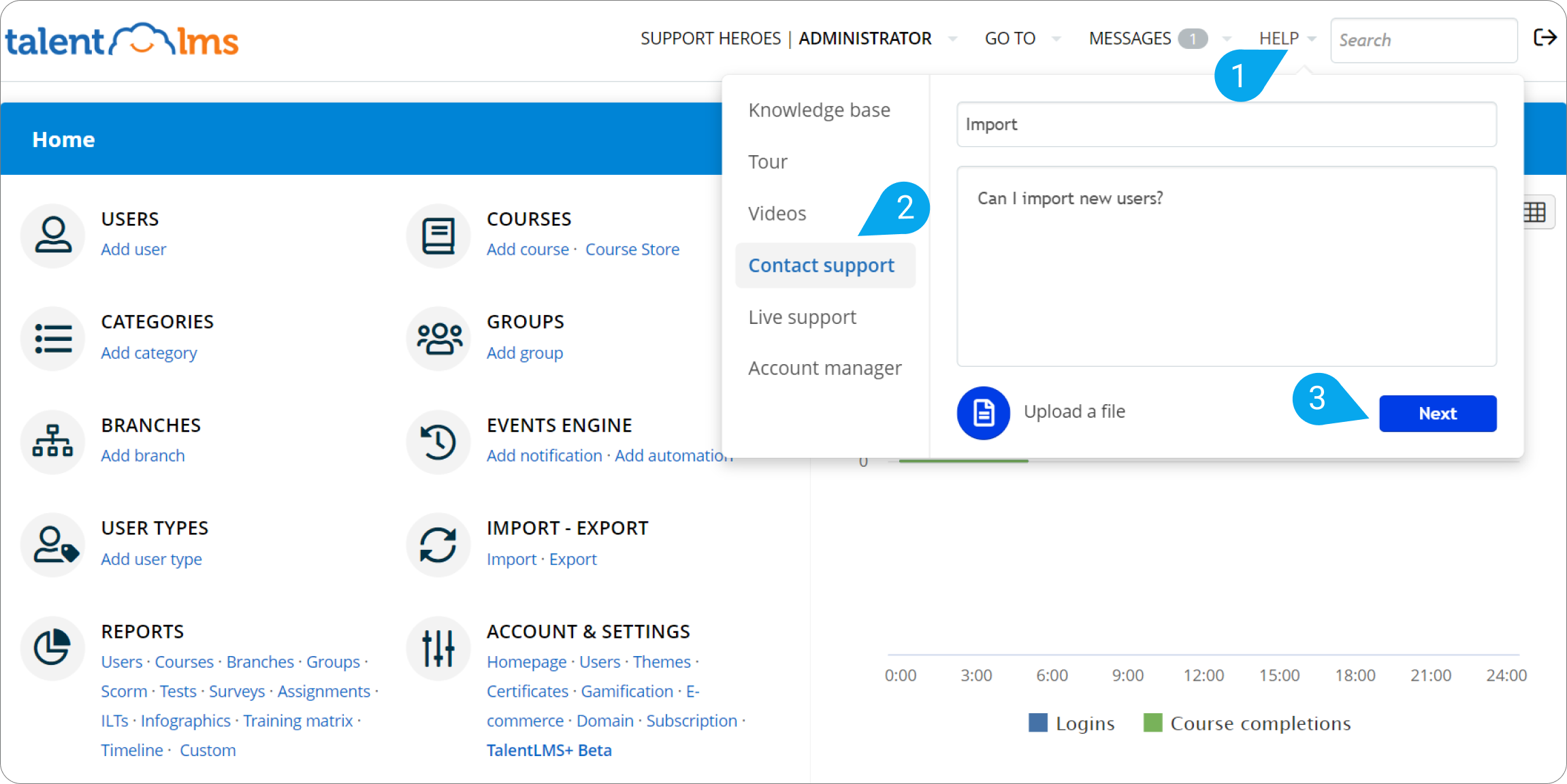 3. In the next window, the system will show you related articles based on the keywords of your subject that could help with your query.
To submit your request to our support team, click No, send my question (4).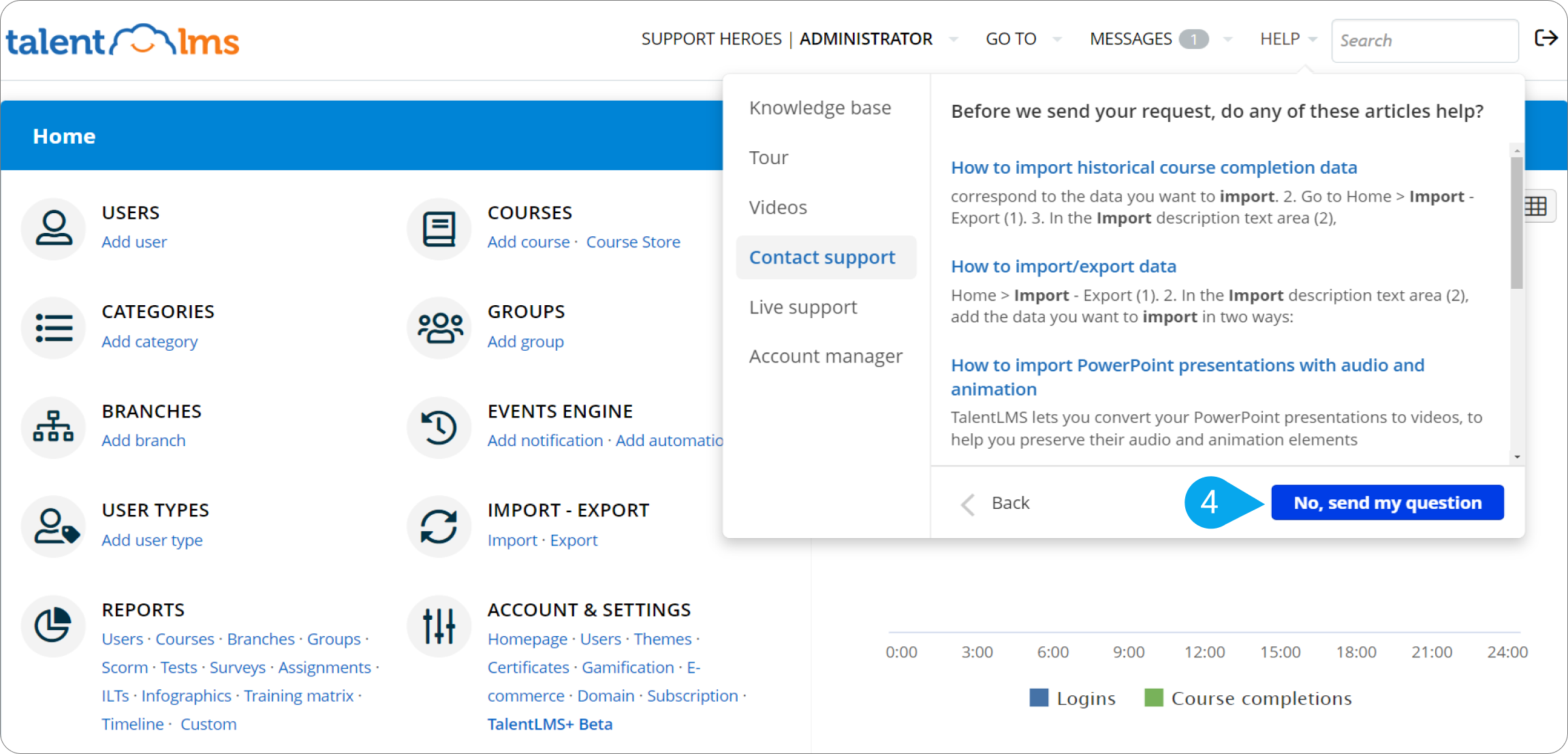 B. Submitting a support ticket through our Help Center
Another way to reach our support team is through the Help Center:
1. Click Contact support (1) located in the top right corner.
2. Fill out the question form with your contact information and your query and click Submit (2).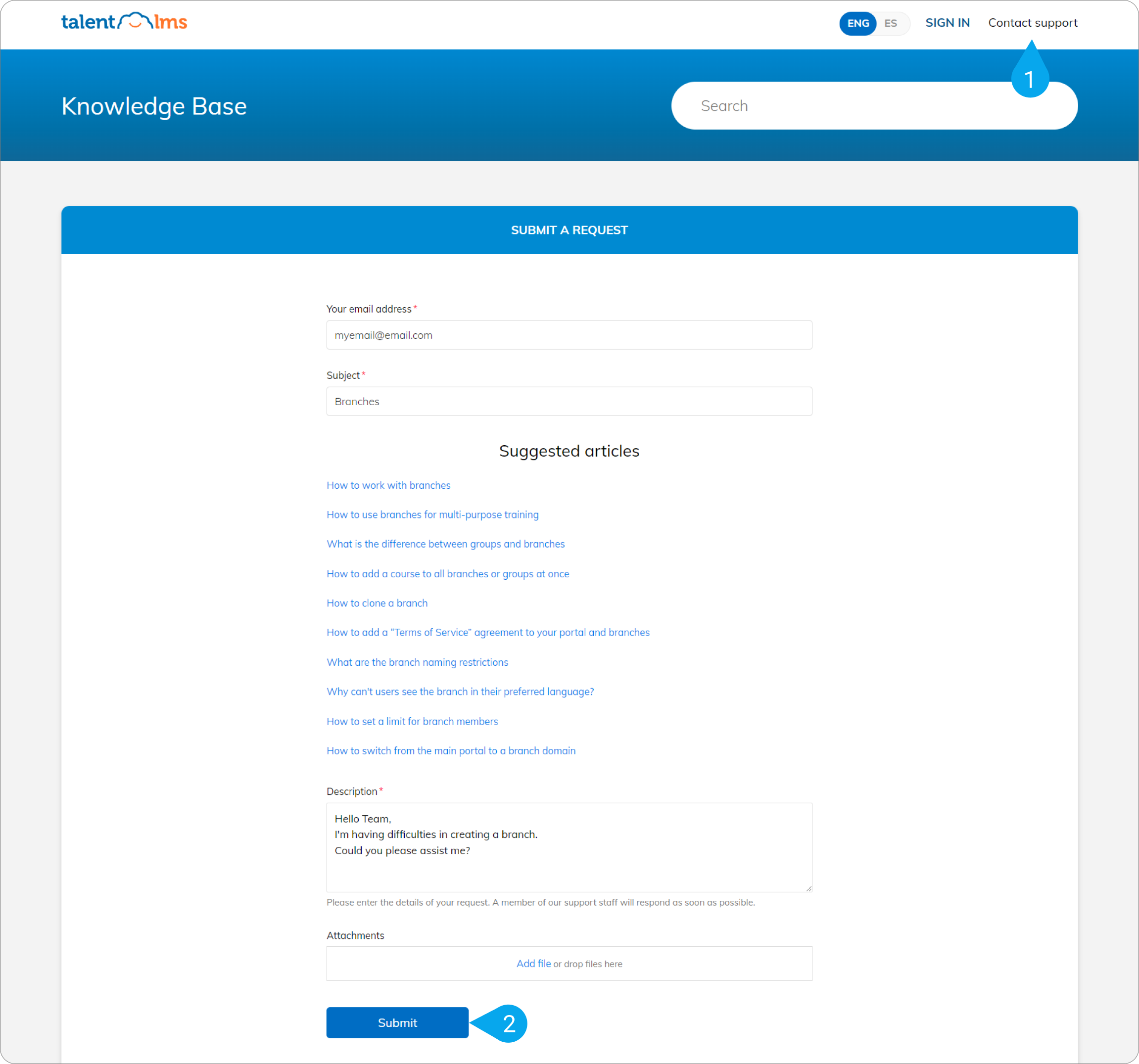 You can also sign up for our ticketing support system to ensure you follow up with the progress of the queries you have submitted.
C. Submitting a support ticket through our website
1. One other option would be to contact us by visiting our website, talentlms.com. Scroll down on the page and click Contact us (1).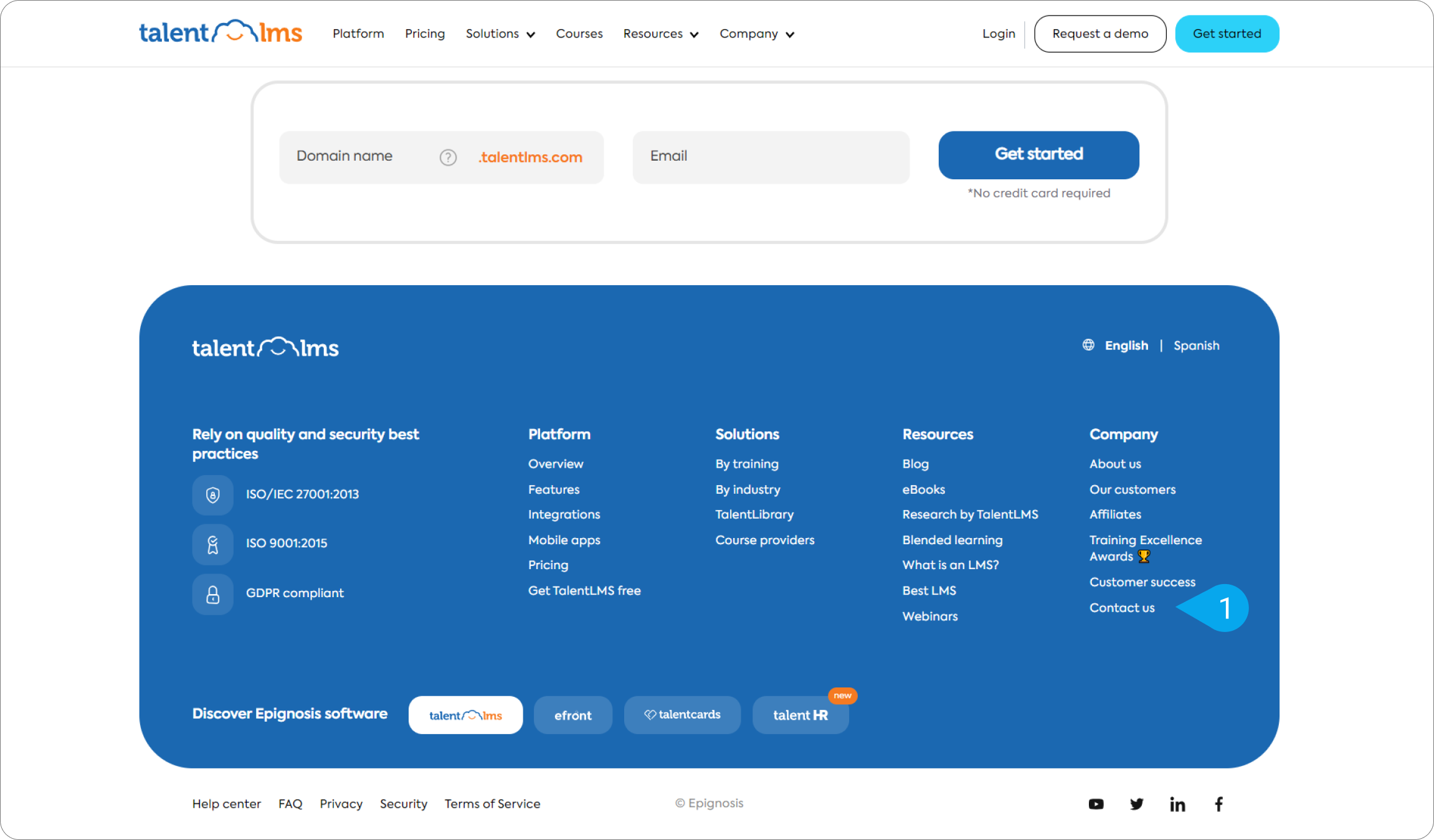 2. Once the contact form appears, on the How can we help drop-down menu (2), select I have a support question (3).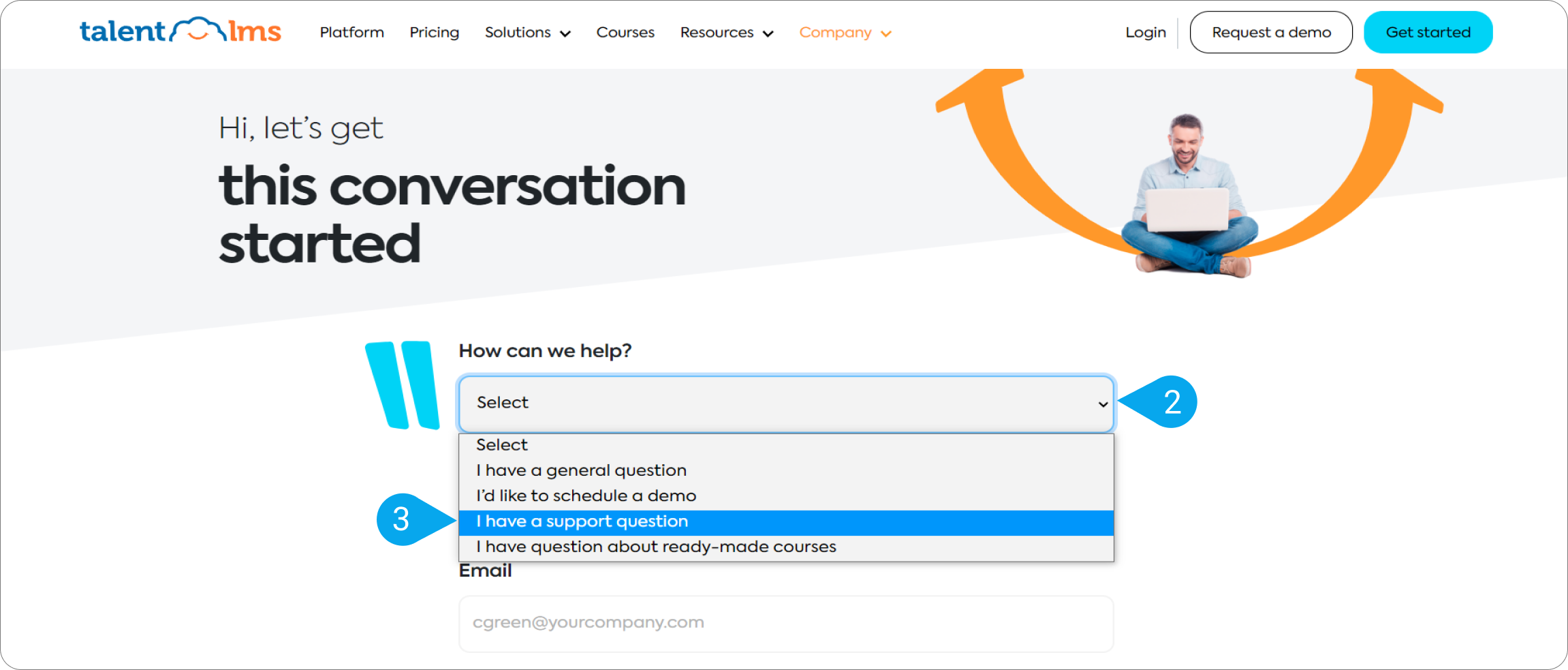 3. Fill in the form with all other information it requires, your question, and your portal's URL, and click Send (4).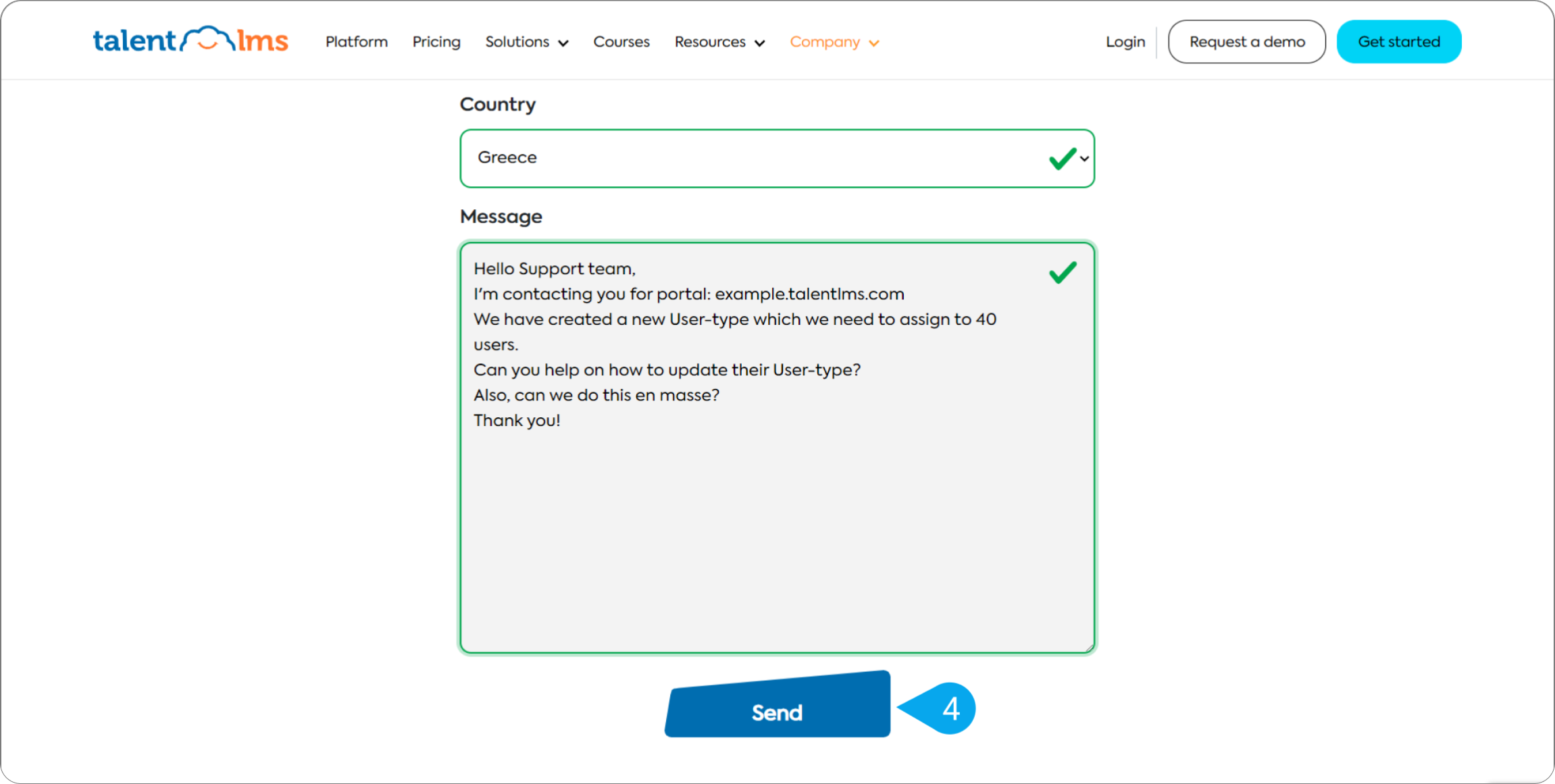 D. Sending an email
If you prefer to contact us via email, you can send an email to help[at]talentlms.com. Share with us your query in detail along with your portal's URL so we can assist you right away.
Also note that once your ticket has been submitted successfully, you'll receive a confirmation email, regardless of the way you reached out to us.
Note: If you are on a Premium plan or above you can also contact us via live chat support. To access the live chat, log in to your TalentLMS account, hover over Help, click Live Support, and then Start a conversation to reach one of our agents.