Reach more people and create more revenue by selling your courses to other TalentLMS customers through our Course Store.
To submit your courses for sale in our Course Store:
Note: If you wish to submit more than 10 or less than 5 courses, please contact marketplace[at]talentlms.com
1. Sign in to your TalentLMS account as Administrator and go to Home > Account & Settings > E-commerce (1).
2. From the drop-down list, choose Stripe (2).
3. Click Connect with Stripe (3) to connect a Stripe account to your TalentLMS domain as described in this article.

Note: Enable the Invoice Option in your Stripe account settings, to send receipts to your buyers automatically. For more information on this, visit https://support.stripe.com/
4. Create a course and make sure you go through the instructions provided in this article. Give it a description, an image, some great content, and a completion rule. Don't forget to put a price on it. That's the price of a single license.

Note: Depending on the number of licenses purchased, a tiered discount plan applies. Here is an example to understand how the discount tiers work: If one purchases 50 licenses, the first 10 are normally priced, the next 10 will get a 10% discount, and the last 30 are 20% discounted.
5. Click Request inclusion to the Course Store (4) to submit the course for approval.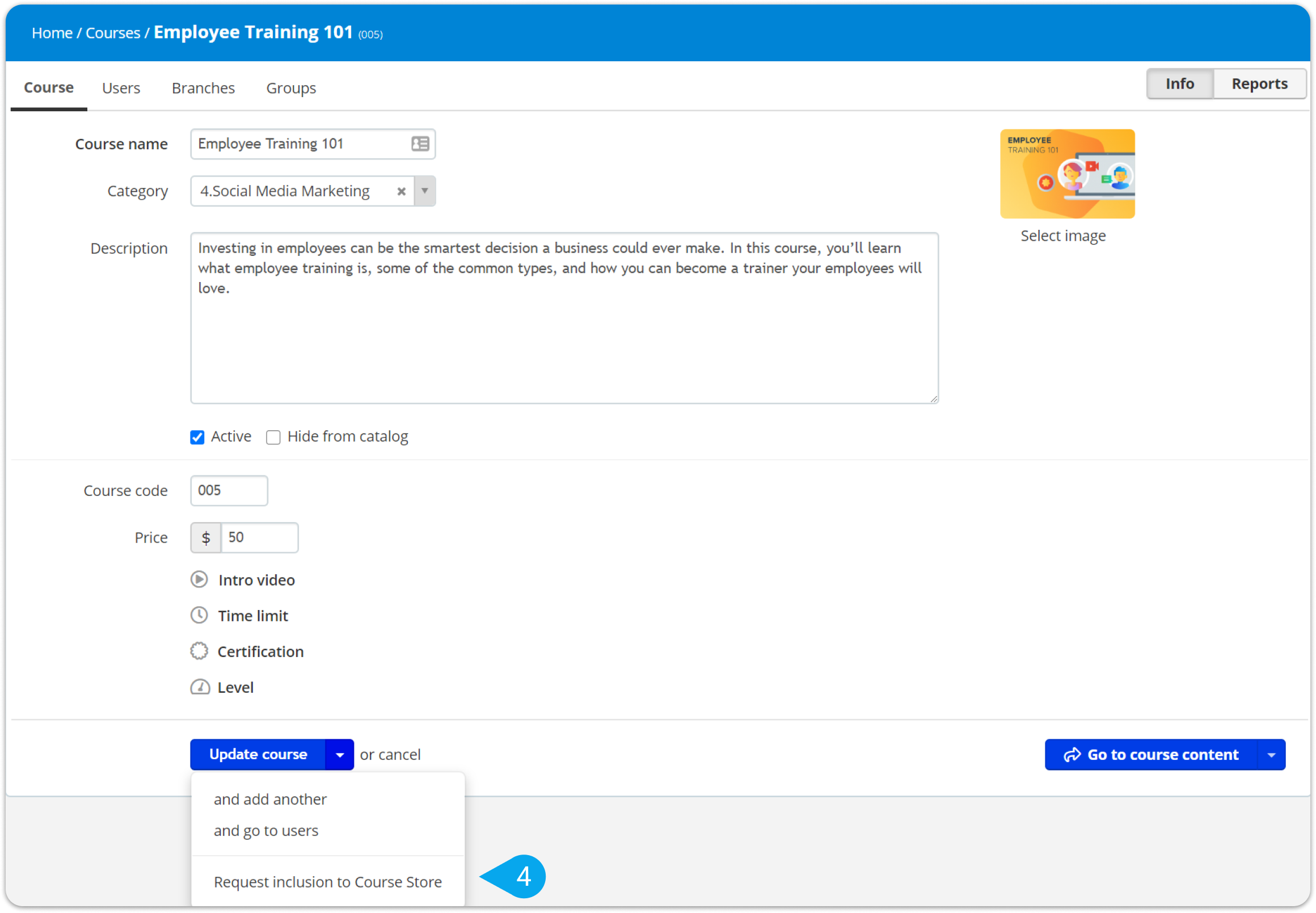 6. On the popup box click Yes (5) to confirm that you accept the Course Store terms and finalize the inclusion of your course to the Course Store:



Note:
To view the option "request inclusion to Course Store" you need to be the owner of the course, and the course should have at least one unit.
We will confirm that we received your submission within 1 business day and the processing result within 2 weeks.

When your course is accepted, you get a confirmation message, and the course is immediately included in every TalentLMS owner's Course Store.

If your course isn't accepted, you get a message that informs you of all the improvements you need to make.

Course Store content is updated quarterly, so ensure to submit your new courses in the last month of the previous quarter. You will then see the updates early in the next quarter.
From now on, you act as a direct seller for all your courses through your Stripe account. Whenever a payment goes through, Stripe sends the account owner a notification email containing all transaction details such as Stripe code, net amount among others. 75% of the transaction goes directly to the seller's Stripe account, and 25% is the TalentLMS commission.
Note:
After a course has been added to the Course Store, any changes to initial course content
do not affect
the Course Store version. If these changes are significant, simply apply them and then inform the TalentLMS support team that you want to update an existing Course Store course. In that case, the Course Store version of the course is updated without affecting the status of the users that have already bought the original course.