The TalentLMS Marketplace is your built-in store for buying and selling professional eLearning courses.
In the following guide, we show you how to shop for courses and sell your own in our Marketplace.
A. How to shop for courses in the Marketplace
1. Sign in to your TalentLMS account as Administrator, and go to Home > Courses > Marketplace (1).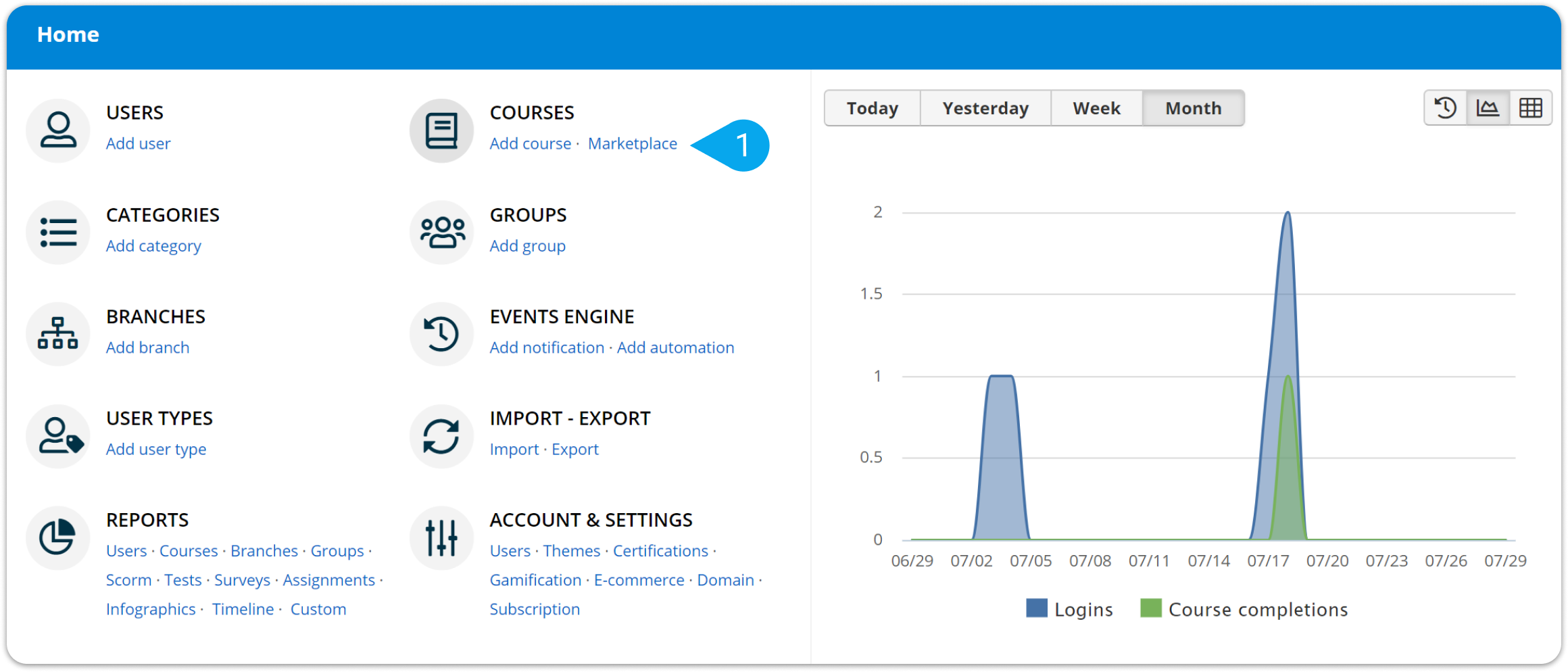 You're in the Marketplace. Here, you can take your pick from an extensive collection of top-quality courses built by professional course providers.
Note:
To find what you need easier and faster, filter the course list by category or provider.
2. Choose your preferred course and click it.
3. On the course page, click Get this course. If the course is free, it's immediately added to your TalentLMS portal. If not, a dialog box pops up.
4. On the Buy licenses dialog box, type the number of Licenses (1) you want to purchase, and your credit card information (Card number, CVC, Expiration date) in the respective fields (2).
5. Click Buy licenses to complete the purchase (3).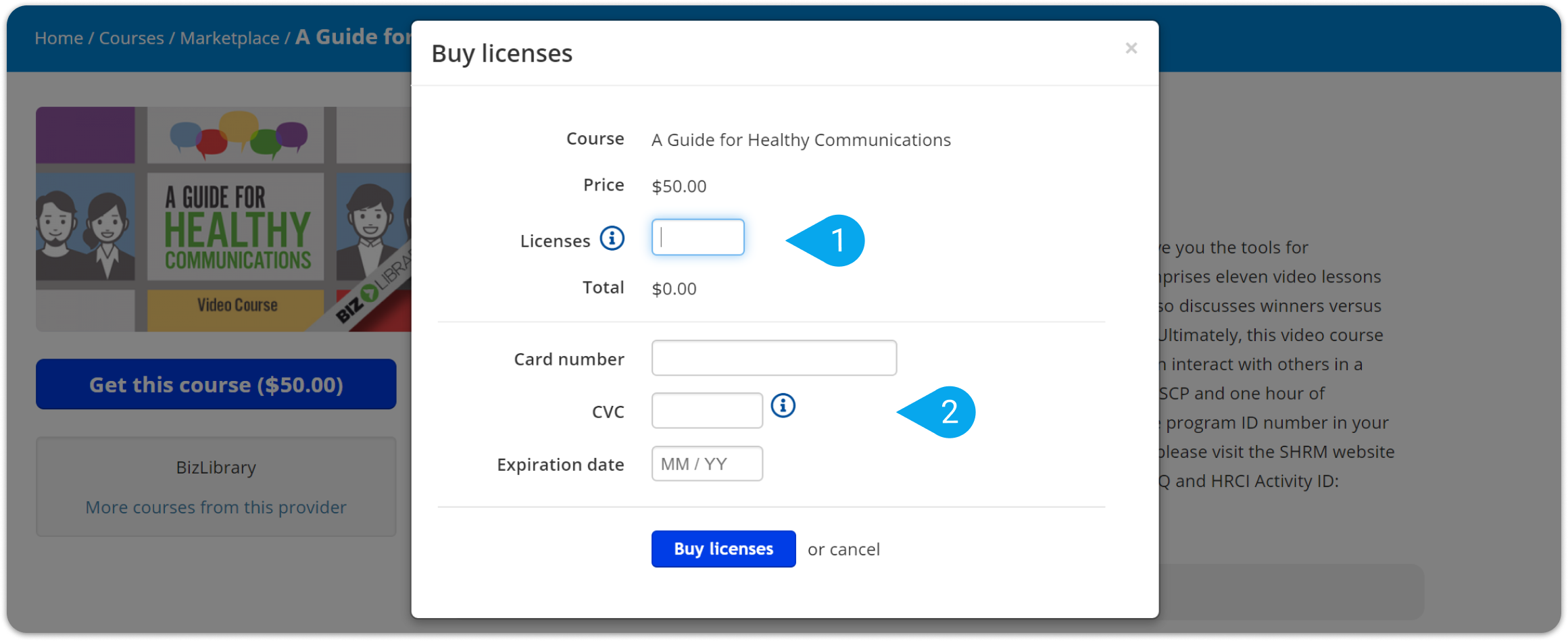 The course is now added to your course list. You can edit the course description, change the course image, and add new content.
Note:
For security reasons, you cannot clone the courses you acquire from the Marketplace.
Purchased courses have an indication for the number of Licenses you own (i.e., the times you can assign the courses to a different learner). There is no restriction for instructors.
When you assign the course to a user, one of your licenses is labeled as Reserved. When the user completes the course, that license is labeled as Consumed. If for some reason, the user fails to complete the course and abandons it, that license can be reused.
B. How to sell your courses in the Marketplace
1. Sign in to your TalentLMS account as Administrator and go to Home > Account & Settings > E-commerce (1).
2. From the drop-down list, choose Stripe (2).
3. Click Connect with Stripe (3) to map a Stripe account to your TalentLMS domain as described in this article.

4. Create a course as described here. Give it a description, an image, some great content, and a completion rule. Don't forget to put a price on it. That's the price of a single license.
5. Click Request inclusion to the Marketplace to submit the course for approval:
When your course is accepted, you get a confirmation message, and the course is immediately included in every TalentLMS owner's Marketplace area.

If not, you get a message that informs you of all the improvements you need to make.
From now on, you act as a direct seller for all your courses through your Stripe account. Whenever a payment goes through, Stripe sends you a confirmation email containing all transaction details.
Note:
After a course has been added to the Marketplace, any changes to initial course content do not affect the Marketplace version. If these changes are significant, simply apply them and then inform the TalentLMS support team that you want to update an existing Marketplace course instead of submitting a new one. In that case, we delete the original course and copy the new one without changing the status of the users that have already bought the original course.
That's it!
You can now use the Marketplace to buy and sell courses through your TalentLMS account.