TalentLMS lets your instructors give assignments to learners, who can then submit their answers in various formats to be reviewed and graded.
Here's how:
Step 1: Add an assignment to a course
1. Sign in to your TalentLMS account as Instructor and go to the page of the course you want to add an assignment to.
2. Click Add and, from the drop-down list, choose Assignment (1).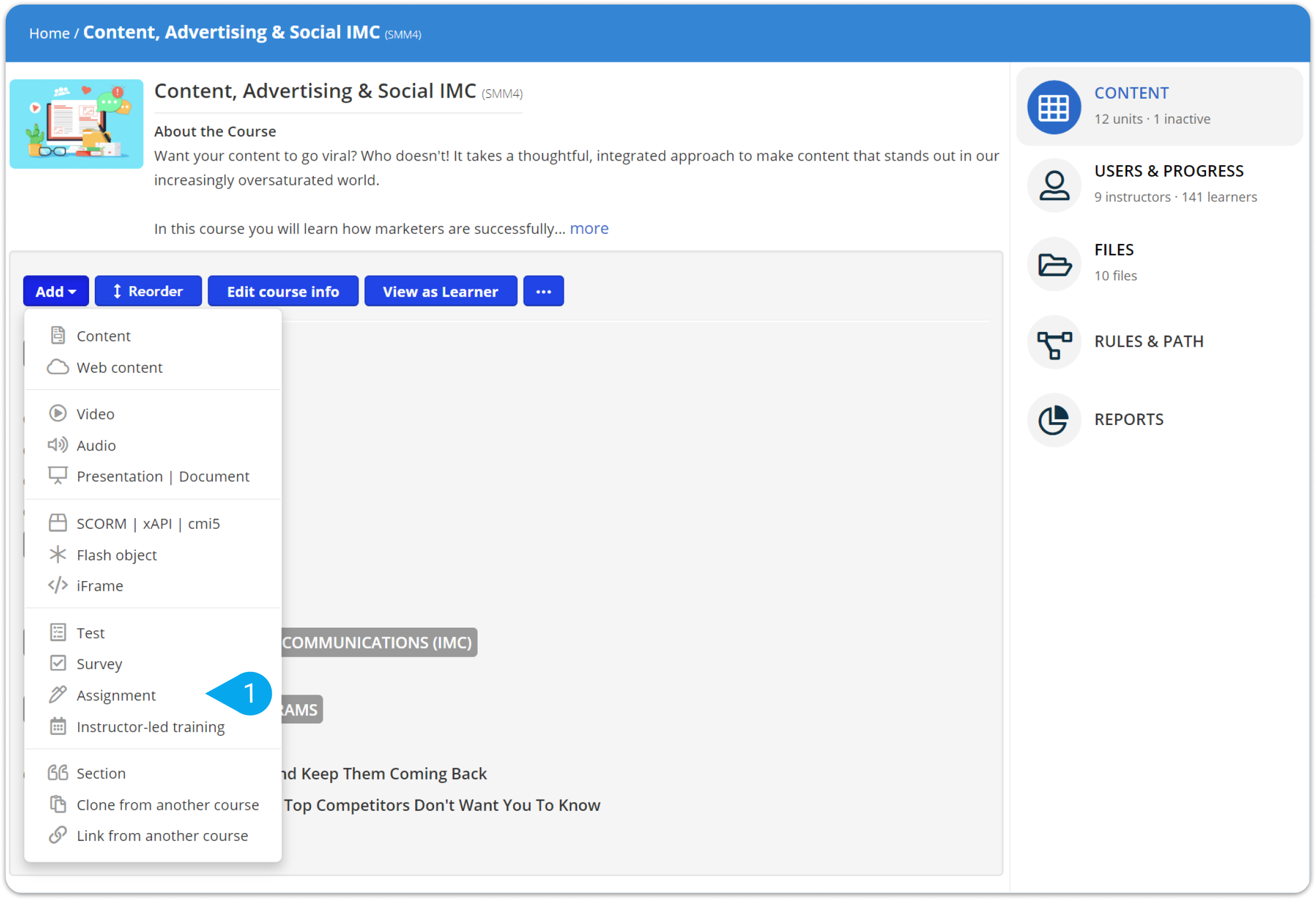 3. In the respective field, type an Assignment name.
4. From the How to complete it section, choose between two options:
When instructor accepts the answer (2):

The assignment unit is considered complete only when the instructor has graded it. If the serial rule (i.e., Units must all be seen and completed sequentially) is enabled for the course, users cannot proceed to the next unit until their assignment has been graded.

When uploading an answer (3):

The assignment unit is considered completed (passed) the moment a user uploads their answer. If the answer is wrong, the instructor can change the unit status to "Not Passed" or "Pending" (i.e., the user can try again).
5. In the text editor (4), add the description of your assignment (i.e., what you want your learners to do).
6. Click Save and view to update your course.

When learners access the unit, they can see the assignment description. To submit an answer, they are provided with four options:
Type their answer in the text area

and click

Send your reply or Upload a file

from their local disk and click

Upload your reply (5)
Record video and click Send your reply or Record audio and click Send your reply (6)
Note:
The accepted file formats and their limits are ppt, pptx, doc, docx, xls, xlsx, pdf (up to 200 MB), gif, jpg, jpeg, png (up to 10 MB), zip (up to 200 MB), mp4, webm, ogg, ogv, avi, mpeg, mpg, mov, wmv, 3pg, and flv (up to 600 MB).

When learners submit their answer, the unit is automatically labeled as Pending reply from instructor, and they can either click check your answer to review their submission or click modify it (7) to edit their answer. After the instructor replies, learners can click check instructor reply to see their grade.

Step 2: Review the assignment and grade it
1. Sign in to your TalentLMS account as Instructor and click Assignments (8).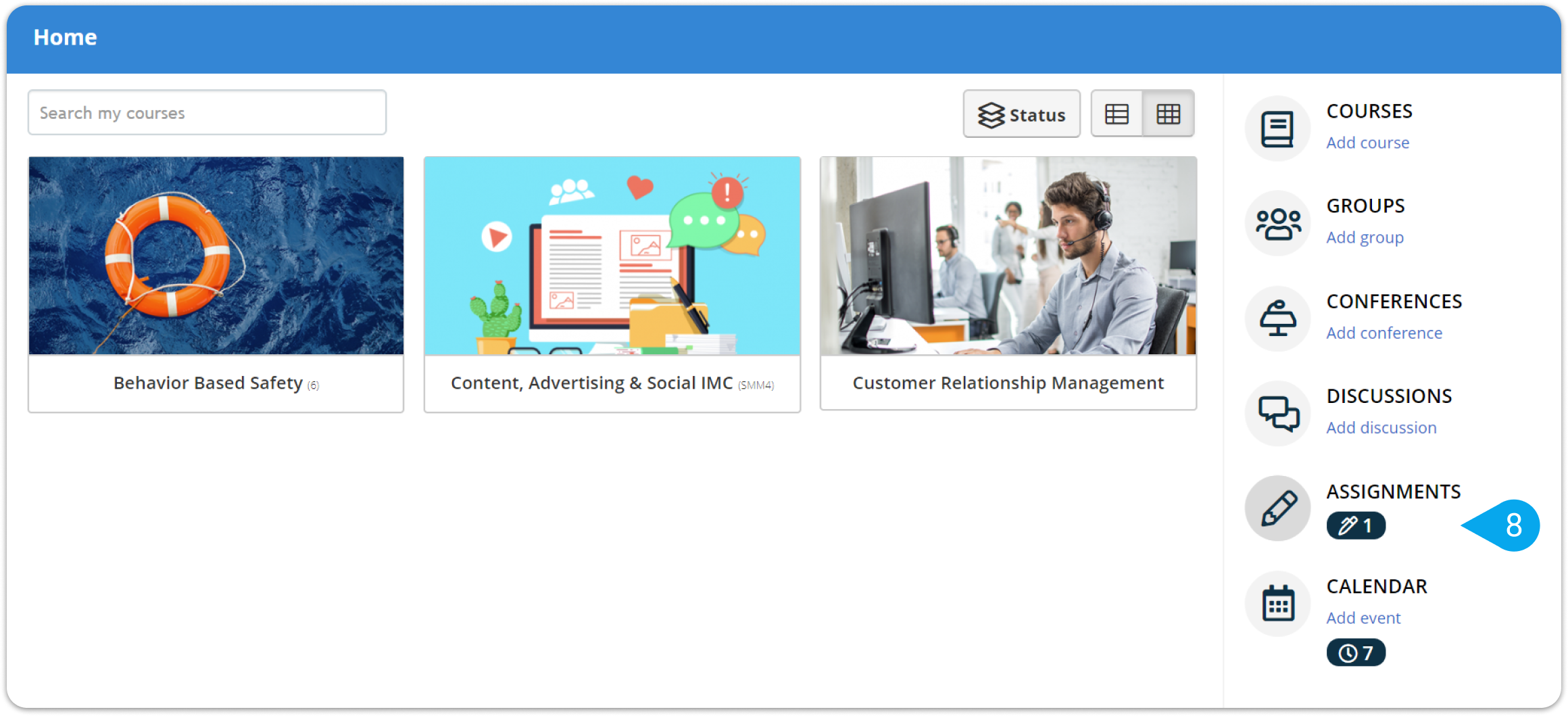 2. Click
Check answer
next to a user's name.
3. On the Reply dialog box that pops up, review the user's answer and click Grade.

4. From the Status drop-down list, change the user's status to Passed or Not passed (10).
5. Optionally, you can grade the Performance of the learner, and add some feedback in the Comments (11) text area.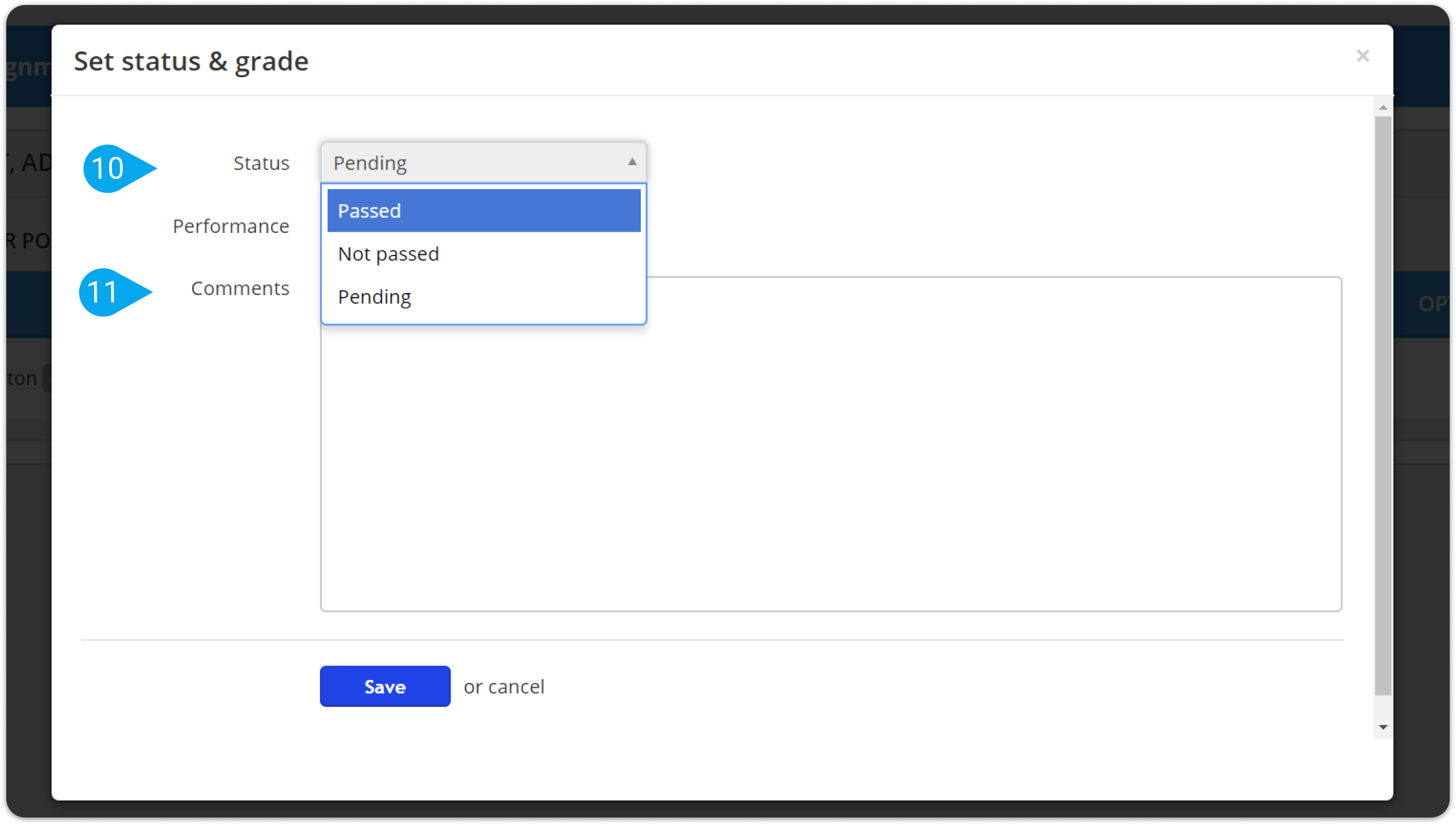 After their answer has been graded, learners can see their assignment unit as Completed (12).




Note:
Instructors cannot see assignment units that are completed when a user uploads their answer (see Step 1.4) on the pending list. In that case, to review and grade an assignment, the instructor has to go to the course page, point to the assignment and click
submissions (13)
.

When a submission is marked as Not passed, learners have the option to change their answer and upload a new submission that the instructor will review and grade again. you can view the assignments history following the steps provided in this article.
You did it!
Now you can use assignments to challenge your learners and help them get the most out of your courses.