TalentLMS lets you "gamify" your eLearning experience to keep users engaged and motivated throughout their training. To do that, TalentLMS offers some of the most popular and "battle-tested" gamification techniques:
Let's have a quick look at these features and how they can "power up" your training portal:
Points are mainly used for "keeping score".
TalentLMS offers a bundle of options to configure when and how many points are awarded to your users (e.g., Each login gives X points, Each unit completion gives Y points, etc.). When a user wins points they get a "Congratulations!" message and their total is automatically updated on the top-bar display.
Points are a simple, subtle way to nudge along your learners' competitive spirit (with others and themselves).
Note: There are intervals such as logins (1 hour), unit completion (20 seconds), discussion comments (3 minutes) and discussion comment upvotes (30 seconds). There will not be any points for logins, unit completions, discussion comments and discussion comment upvotes that are more frequent than this.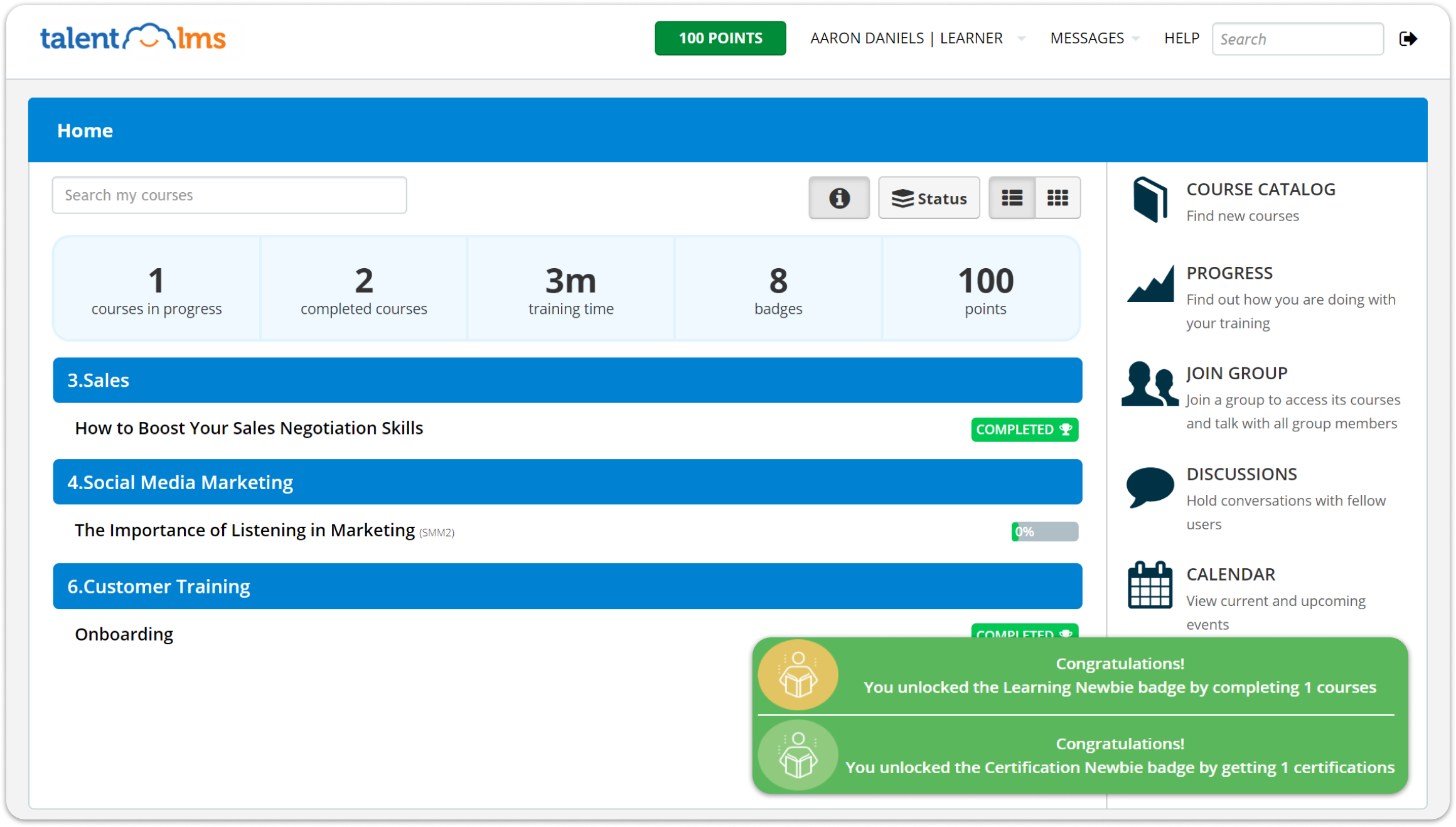 Badges are used to highlight the milestones in a user's progress.
TalentLMS offers a broad range of badge categories (i.e., Activity, Learning, etc.) that are unlocked whenever one of the preset milestones (i.e., 4, 8, 16, 32, 64, 128, 256, 512 logins) is reached.
The TalentLMS badges are easy to acquire at first, but it becomes harder as the user progresses with their training. When a user wins a badge they get a "Congratulations!" message and the badge is added to their profile.
Badges boost your learners' sense of achievement and increase motivation.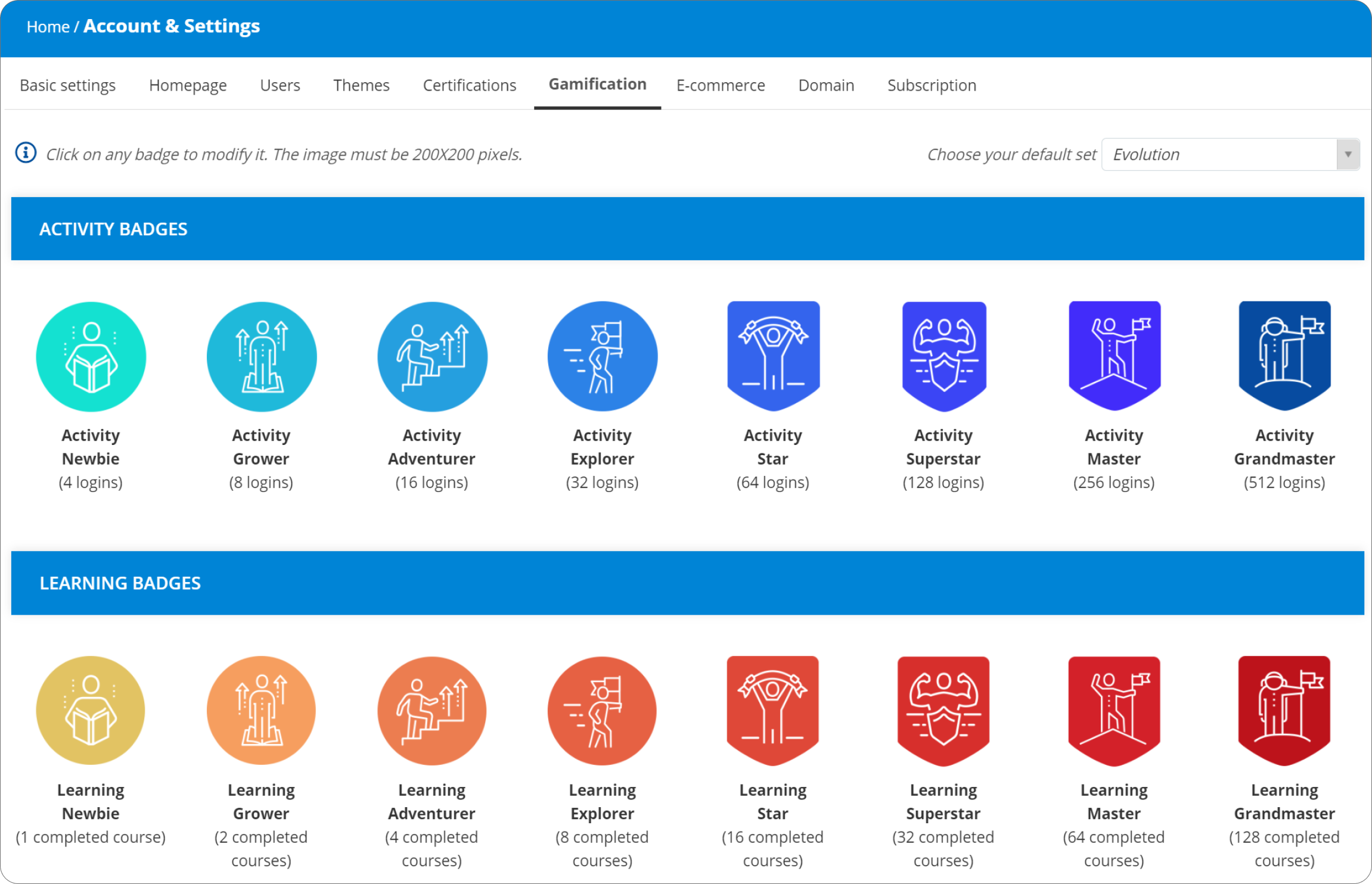 Levels represent a user's development stages.
TalentLMS offers three configurable options for User upgrading (i.e., Upgrade level every X points, Upgrade level every Y completed courses, and Upgrade level every Z badges). By default, all users begin at "Level 1." Levels can be used to restrict User access to courses by making a course available from a specific level and upwards.
Note: Courses that are locked for some levels are labeled as Unlocked on level X on the Course catalog instead of Get or Buy.
Levels keep your learners confident they're moving forward by improving their skill set.
Leaderboards are used as a public "scoreboard".
TalentLMS offers five options for ranking users (i.e., Levels, Points, Badges, Courses, Certifications) based on their current performance.
Leaderboards help learners compare themselves to the best and can motivate certain learners to train more often and better.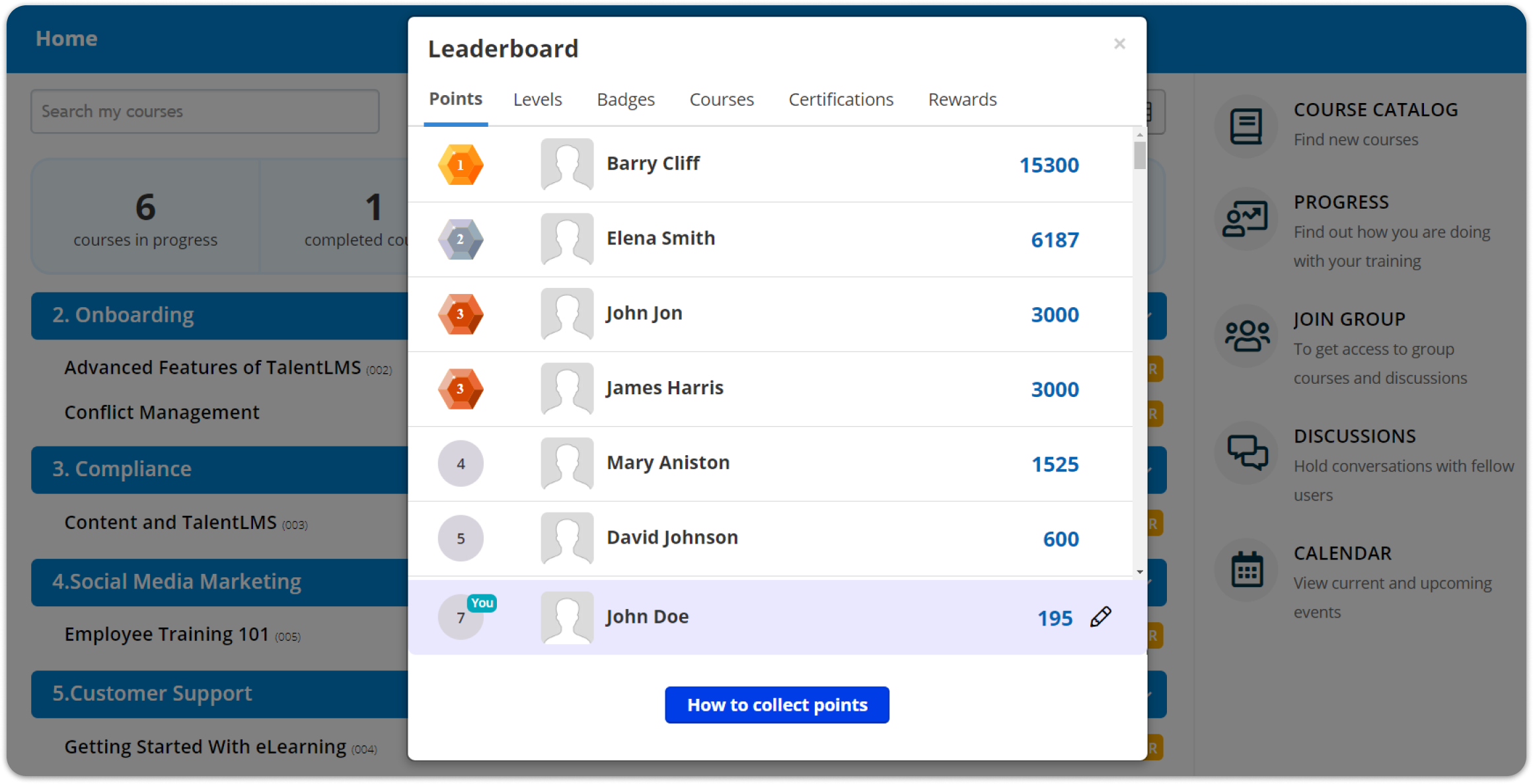 Rewards are tangible gains for users that move forward.
TalentLMS lets you turn your users' virtual gains (i.e., Points, Badges, Levels) into tangible ones. Currently, you only have the option to offer discounts on course prices, depending on a user's total points, total badges or current level.
Rewards provide your users with an extra motive to excel in their training.
Gamification widget
Learners can watch their gamification totals and rankings on the Gamification widget. All they have to do is click Progress on the right-hand panel of their dashboard.