If you're new to TalentLMS, you might need a little help starting out. To get things moving, let's walk you through your first steps and point you to a few useful resources along the way.
1. Sign in to your TalentLMS account as Administrator.
2. Point to Help. From there you can:
Search our

Knowledge base

articles.

Restart the guided Tour to view TalentLMS in 3 different roles.
Browse a vast collection of videos.

What you see is a series of introductory videos. We recommend that you watch them in the following order:

Email our customer support team from the

Contact support

option for any further clarification.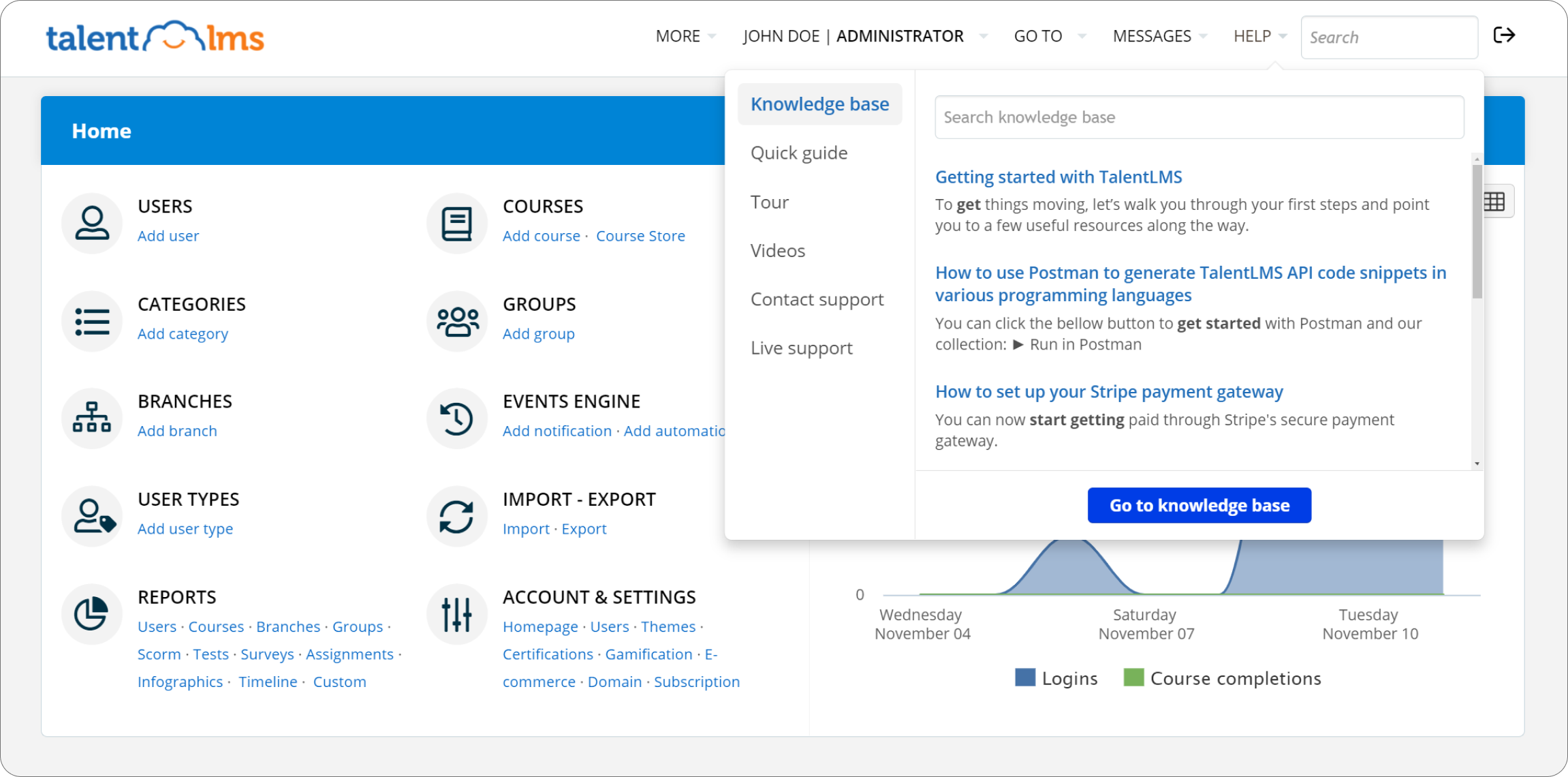 3. Make sure you're logged in as Administrator.
4. Go to Home >Account & Settings. On the Basic settings tab, type a name and description, and upload your company logo to your TalentLMS site.
5. On the Domain tab, type a domain name for your TalentLMS site.
6. On the Subscription tab, make sure that you are subscribed to the correct plan. Leave the other tabs for later.
7. Go to Home > Categories > Add category. On this page, you can create a category for classifying a series of courses that share the same topic. For example, if that topic is Customer Service, then this can be the name of your new category.
8. Return to Home and click Add user to start adding users to your TalentLMS platform. If your platform is for training your employees, then those are your TalentLMS users. If you also plan on training your customers then set up your user base to include customers that purchase your courses.
Note:
To assign your users to a course, you first have to create a course.
9. Go to Home > Courses > Add course to start creating your first course. Type a Course Name and Description, and pick a Category for your new course. Click Save and select users to assign the course to Learners. If no users have been added yet, leave that for later. The next step is to add the content.
10. Point to your name on the top bar. From the drop-down menu, change your role from Administrator to Instructor. Click the name of your new course. On your course page, click Add. Choose from the list of content types and start adding some content.
11. Change your role to Learner. Click the name of your new course to view the added content and test it from a user's viewpoint.
Note:
When you are assigned to the course as Instructor and complete it while you are switched to your learner role, you won't be able to see your data in reports. In reports you can find only data from users that are logged in and assigned to courses as learners.
12. Change back to Instructor to make the necessary adjustments and, if needed, add more content to your course.
13. As Administrator, add some users to your portal and assign the new course to them.
Are you ready to dig deeper? Then, take a look at these videos: