Zoom.us is a web conferencing service, providing cloud-based audio, video and screen-sharing solutions for Windows, iOS & Android systems. TalentLMS lets you integrate your portal with Zoom to make the most of its advanced video conferencing capabilities.
To do it, follow these steps:
Step 1: Select a default video conferencing platform (as Administrator)
First, set Zoom.us as your preferred conference medium.
Here's how:
1. Sign in to your TalentLMS account as Administrator and go to Home > Account & Settings.
2. In the Conferences section, use the Type (1) drop-down list to choose Zoom.us (2).

After selecting Zoom.us from the dropdown, you will see an option for Maximum capacity (3). Here you can set a limit for the amount of users permitted to join the webinar. If left as 0, the default capacity of Zoom.us will be applied (100).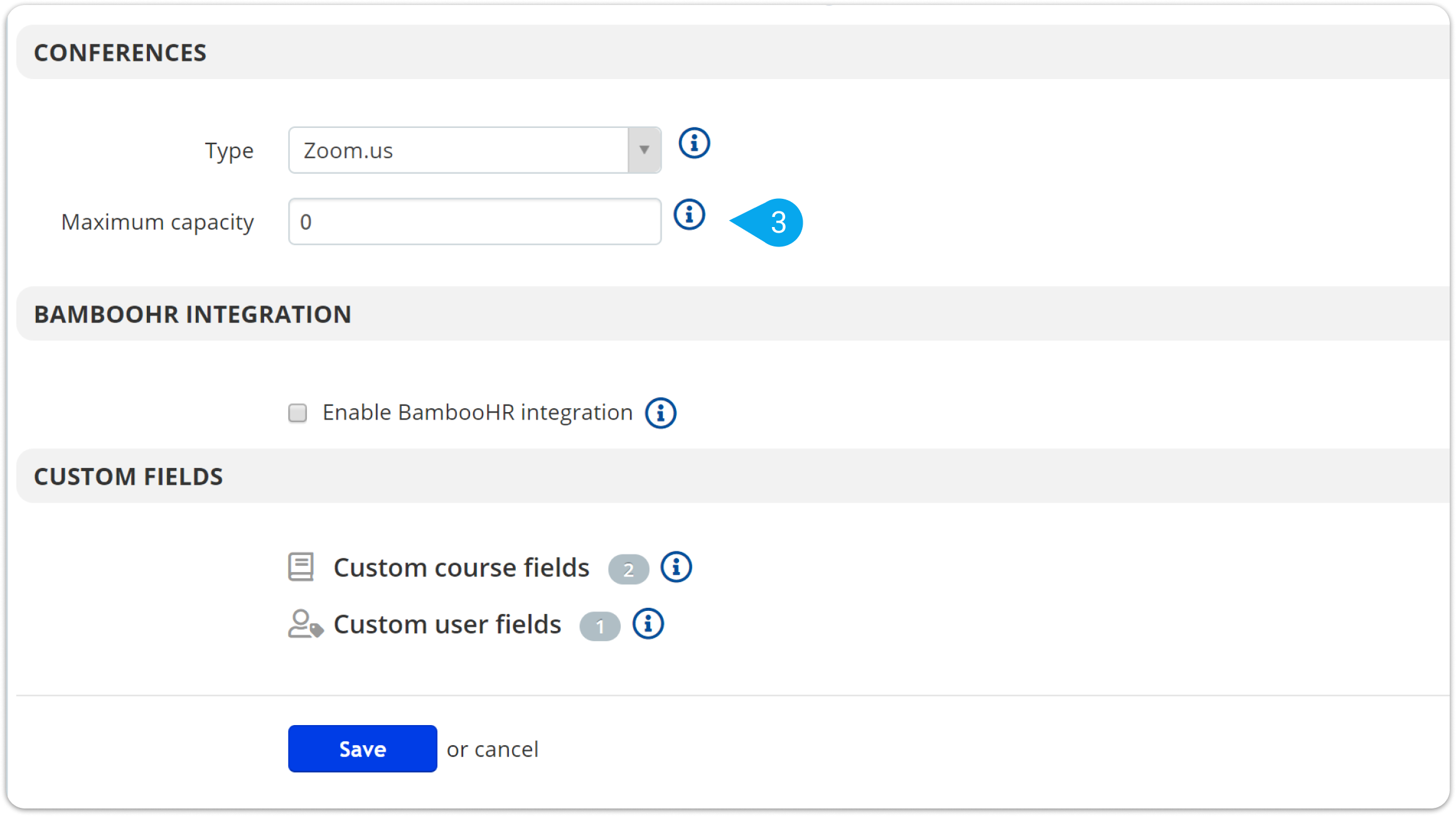 Step 2: Connect your Zoom account to TalentLMS (as Instructor)
Instructors responsible for creating live training events must connect their Zoom account to TalentLMS.
Here's how:
1. Sign in to zoom.us and select Zoom for developers from the left side menu, or go directly to marketplace.zoom.us and sign in with your Zoom credentials.
2. Select Build App from the Develop (1) dropdown on top of the page.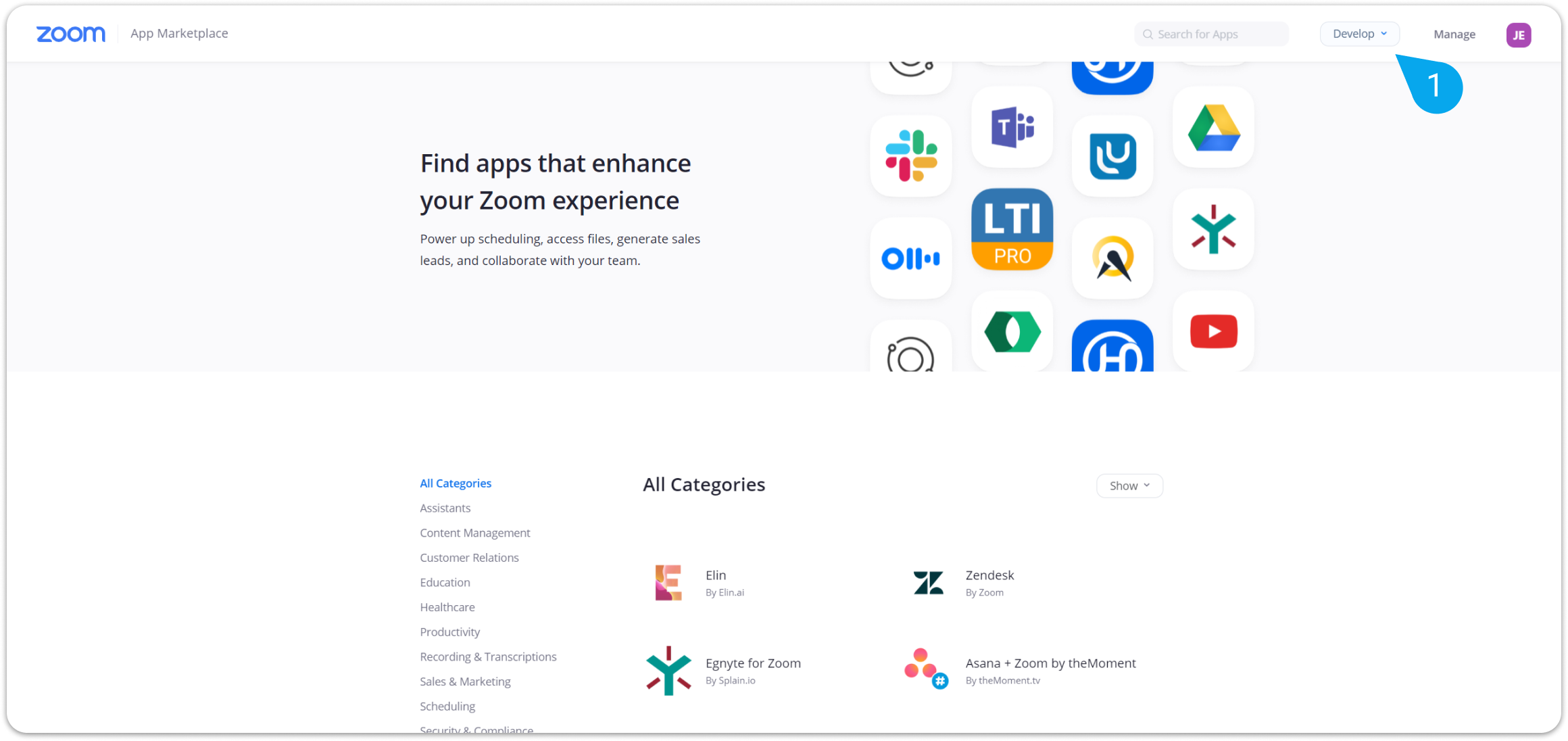 3. Fill in a name for your app, turn off the "Intend to publish this app on Zoom Marketplace"(2) switch, and select Account level app. In the dropdown that will appear, choose JWT API Credentials (3), then click Create (4).

4. Fill in the required info and click Continue.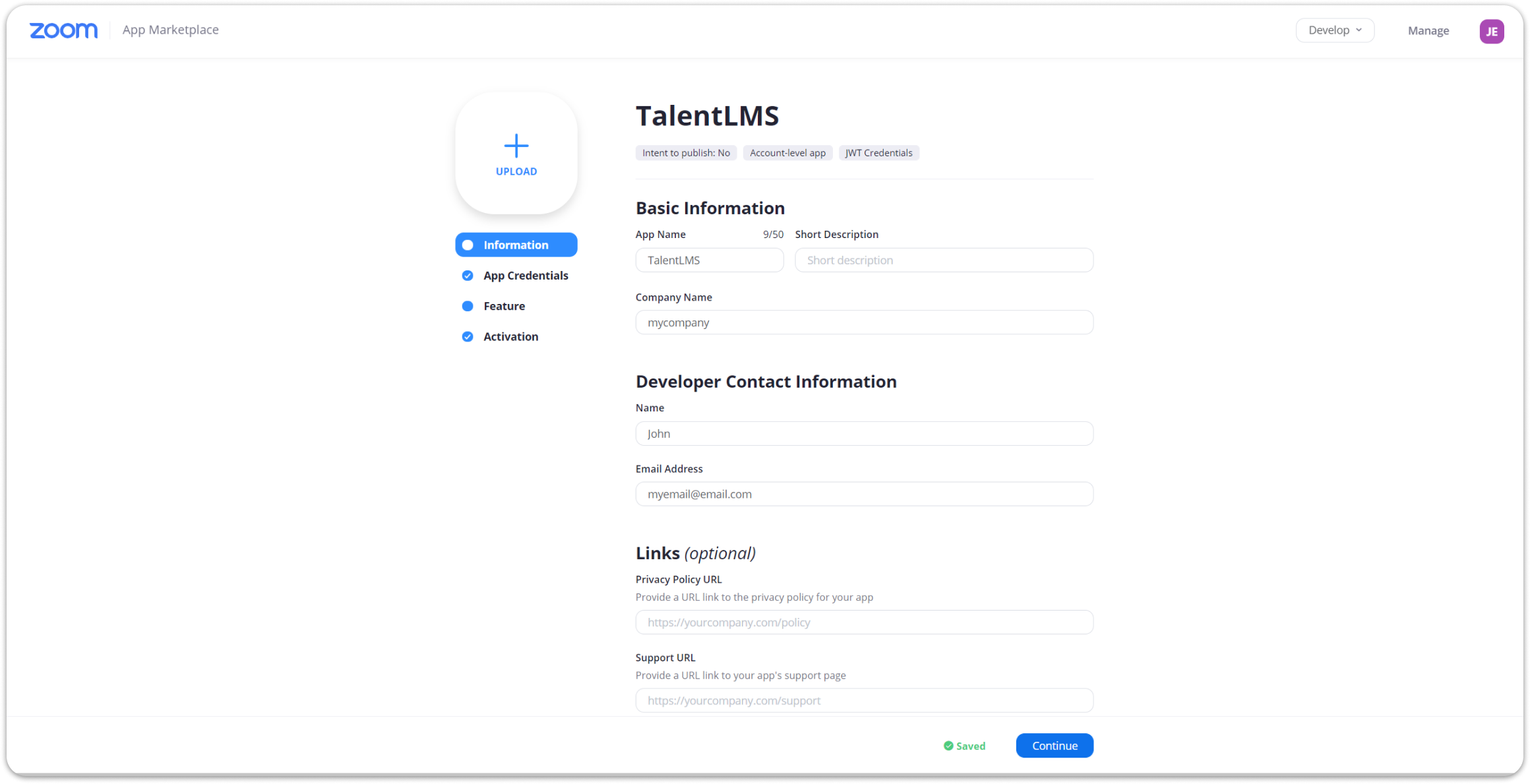 5. Note down your API Key (5) and API Secret (6). Click Continue 2 times to finish the process. 

6. Sign in to your TalentLMS portal, switch to Instructor role and go to Conferences from the right-hand panel. Click the dropdown option and select Connect with Zoom.us (7).
7. On the dialog box that pops up, type the API Key and API Secret (8) in the respective fields, and click Submit (9).

8. From the User drop-down list, choose a TalentLMS user to associate with your Zoom account (10), and click Ok (11).

Note: To manage your Zoom users, go to the User Management section on your Zoom dashboard.
You did it!
You're now ready to create your first Zoom-enabled video conference.