TalentLMS lets you create surveys to gather feedback from your users. A universal and reliable way to measure attitudes and opinions is by using a Likert scale.

This article goes over the following:
- How to add a Likert scale question to your survey
- How to add custom responses
- How to add pre-configured responses
Let's start!
How to add a Likert scale question to your survey
1. Sign in to your TalentLMS account as an Instructor and go to a course with a survey unit.
2. In the Content list (1), find the survey unit, and click edit (2).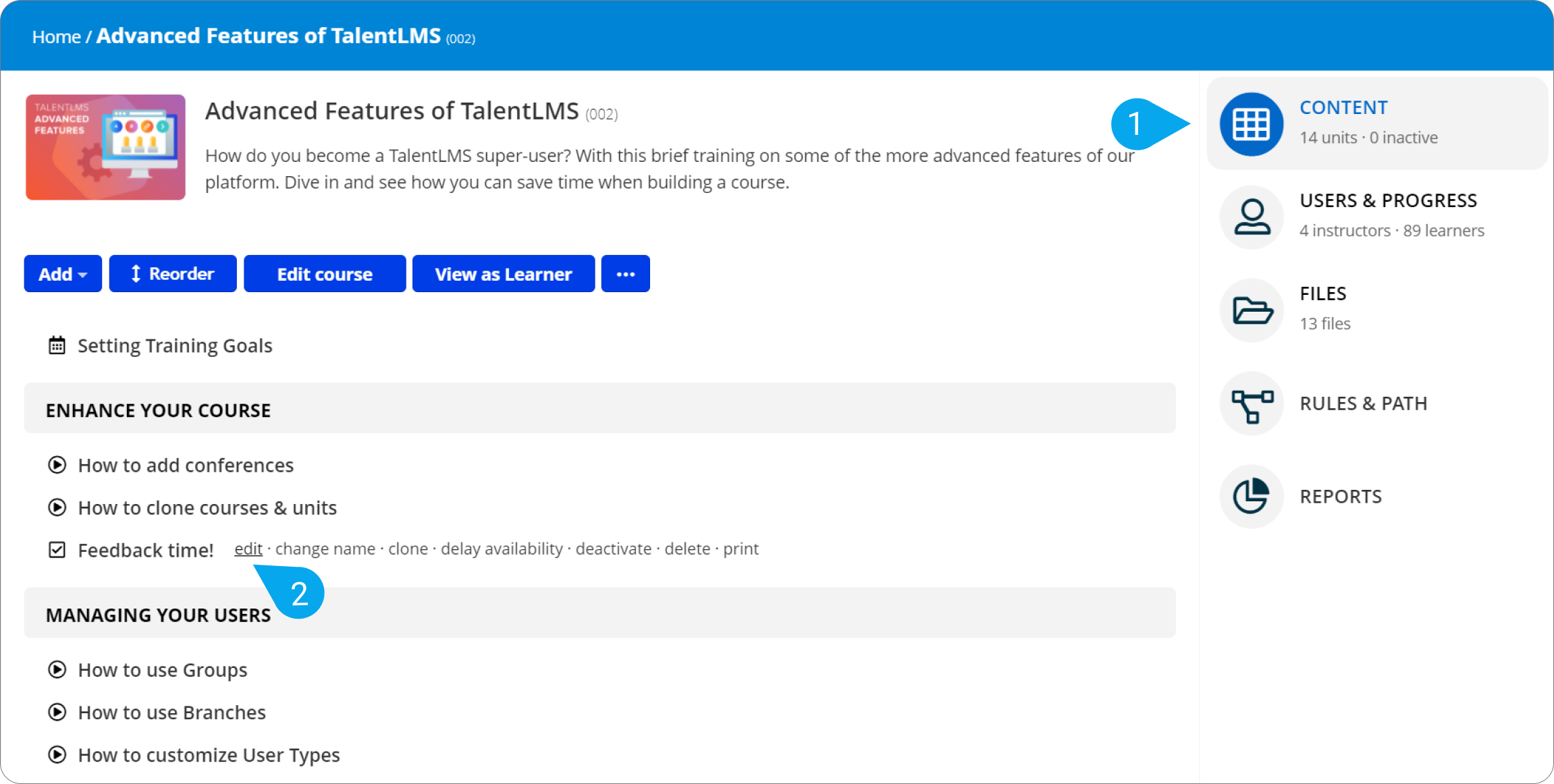 3. On the right-hand panel, go to Add question (3) and click Likert scale (4).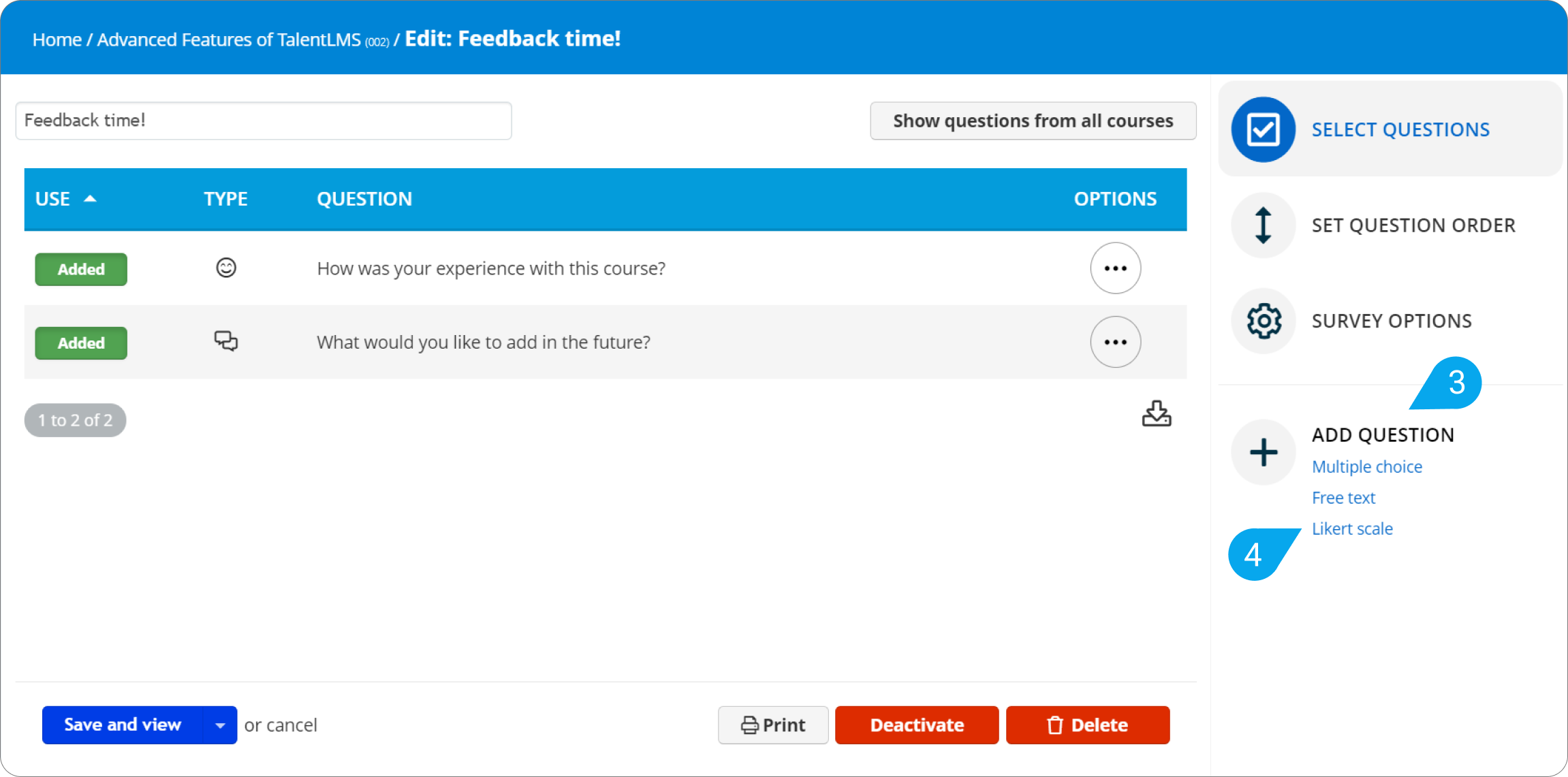 A single Likert scale question is made up of the following sections:
Content (1): Use this area to provide context or instructions to learners.
Note: The Content field is mandatory.
Questions (2): Each Likert scale question can have up to 10 individual questions.
Note: When the survey option Do not continue until an answer is chosen is selected, then all individual questions need to be answered to continue.
To add additional questions, click on Add questions (3).
To delete a question, click on the delete symbol (4) next to a question.
Responses (5): You can select between a custom scale response or a pre-configured response.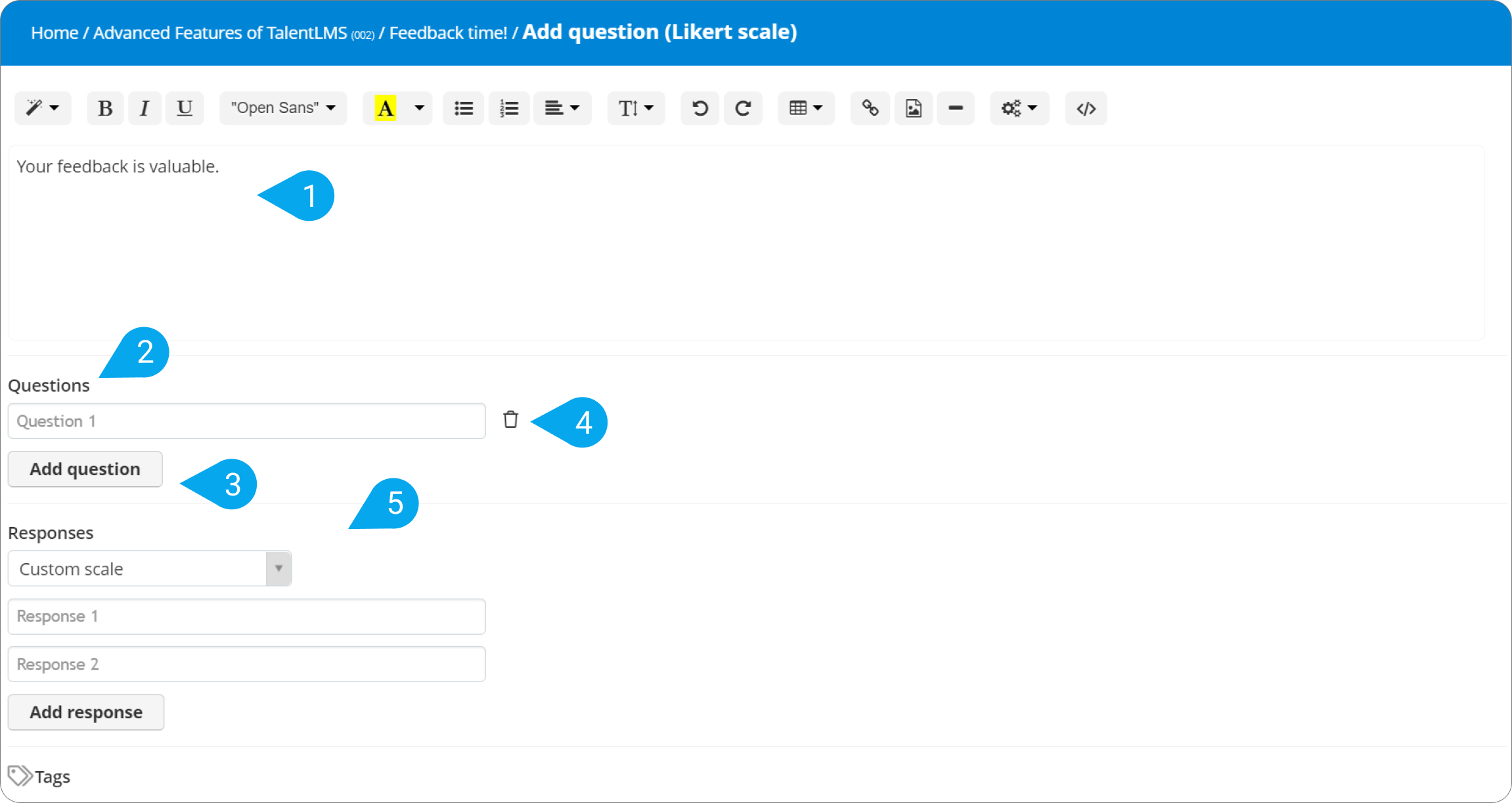 4. Click Save (6) to add the Likert scale question to your survey.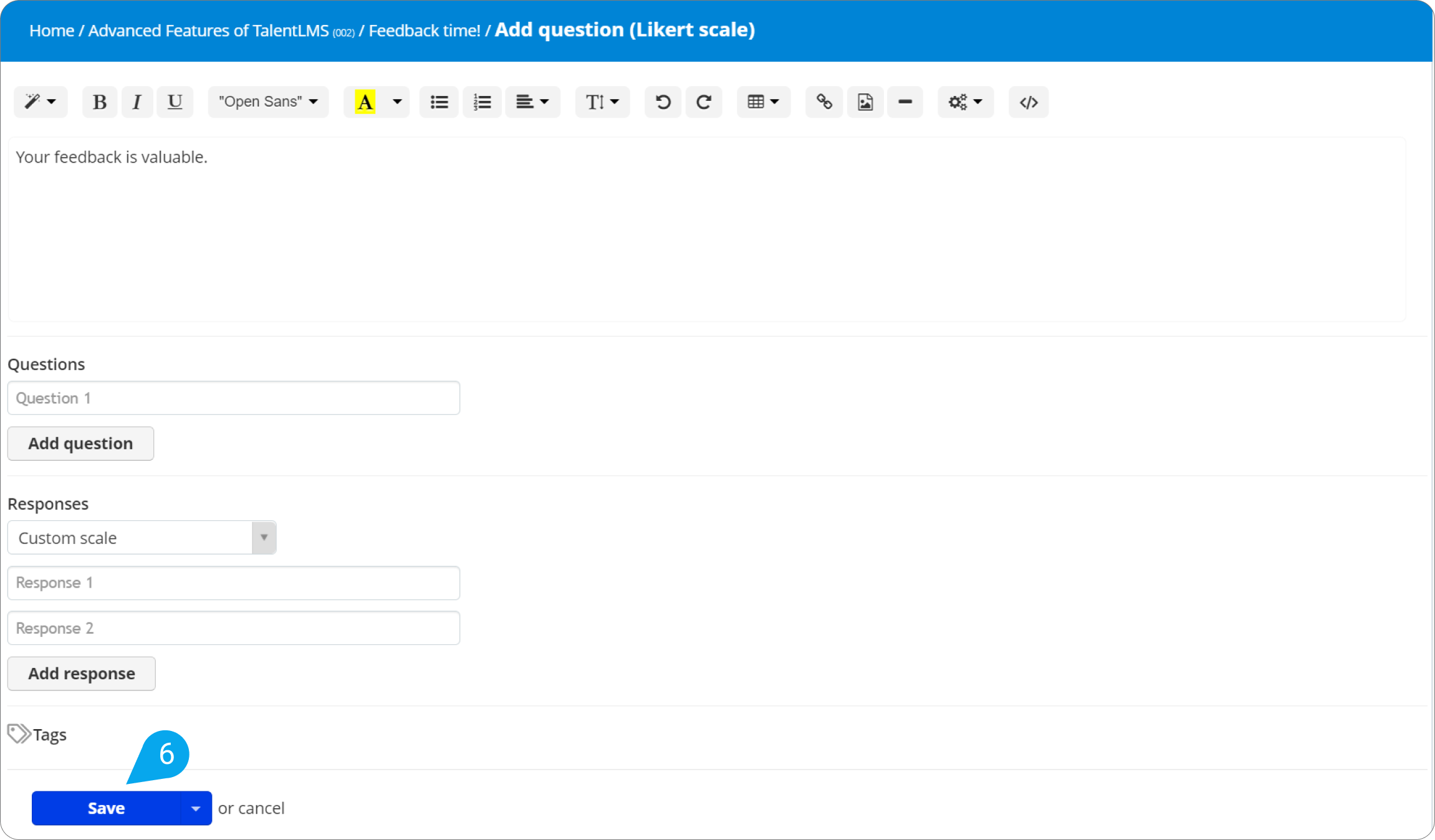 To add custom responses to Likert scale questions, keep the default value Custom scale (1) in the responses section and type (2) your custom responses. You can add (3) up to 7 responses, with a minimum of 2. To delete a response, click on the delete (4) symbol next to a response.
How to add pre-configured responses
Preconfigured responses offer a 5-point rating scale. To add a pre-configured Likert scale response, go to the Responses section, click the dropdown (1) and select one of the available scales (2):
Level of Agreement (Strongly agree, Disagree, Neutral, Agree, Strongly agree)
Level of Satisfaction (Very dissatisfied, Dissatisfied, Neutral, Satisfied, Very satisfied)
Level of Quality (Very bad, Bad, Neutral, Good, Very good)
Likelihood (Very unlikely, Unlikely, Possibly, Likely, Very likely)
Frequency (Never, Rarely, Sometimes, Usually, Always)
When you select a pre-configured scale, you can see the responses of that scale (3).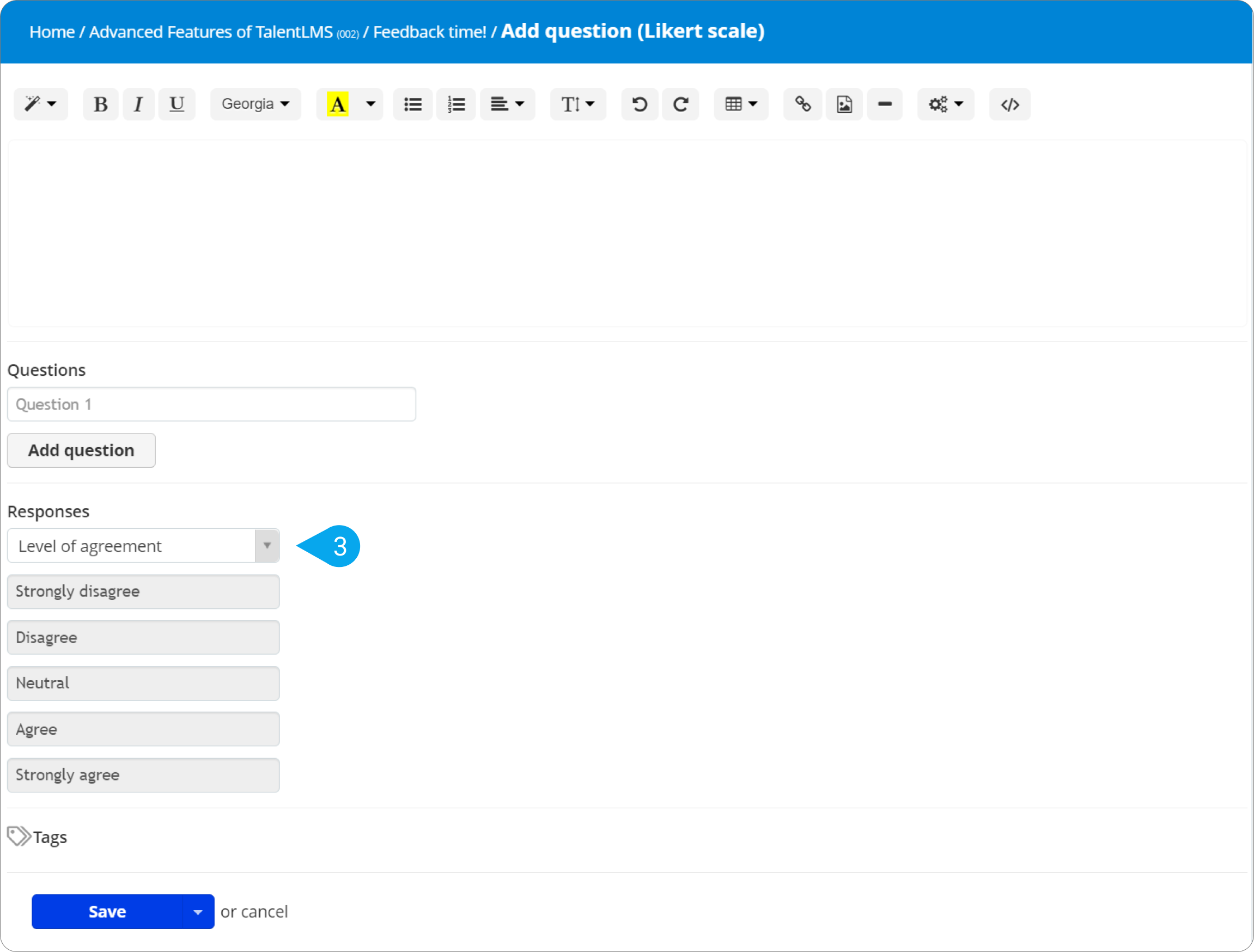 Here is an example of a Likert scale question with content (1), two questions (2), and a pre-configured response (3).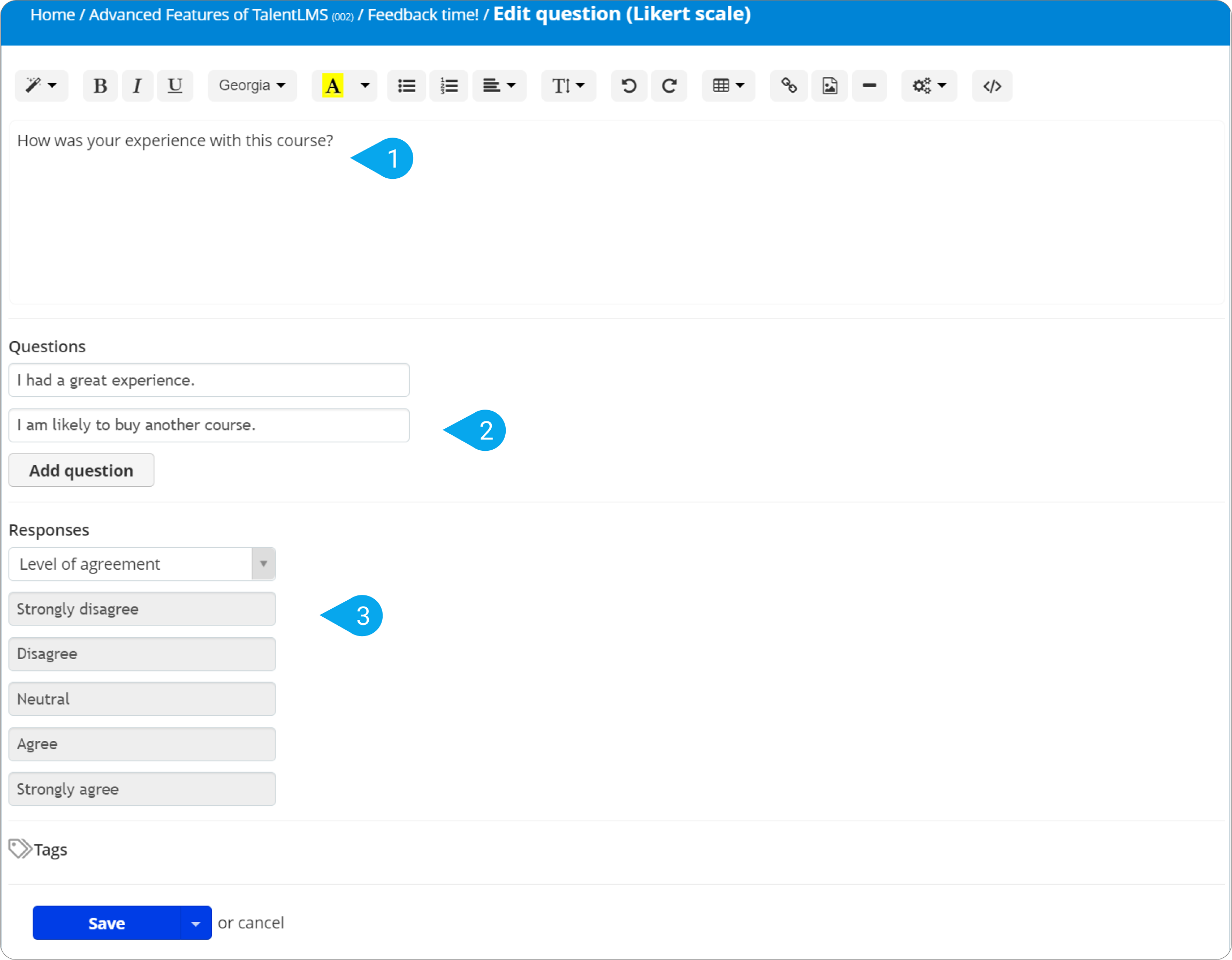 And this is what learners will see when they open this question: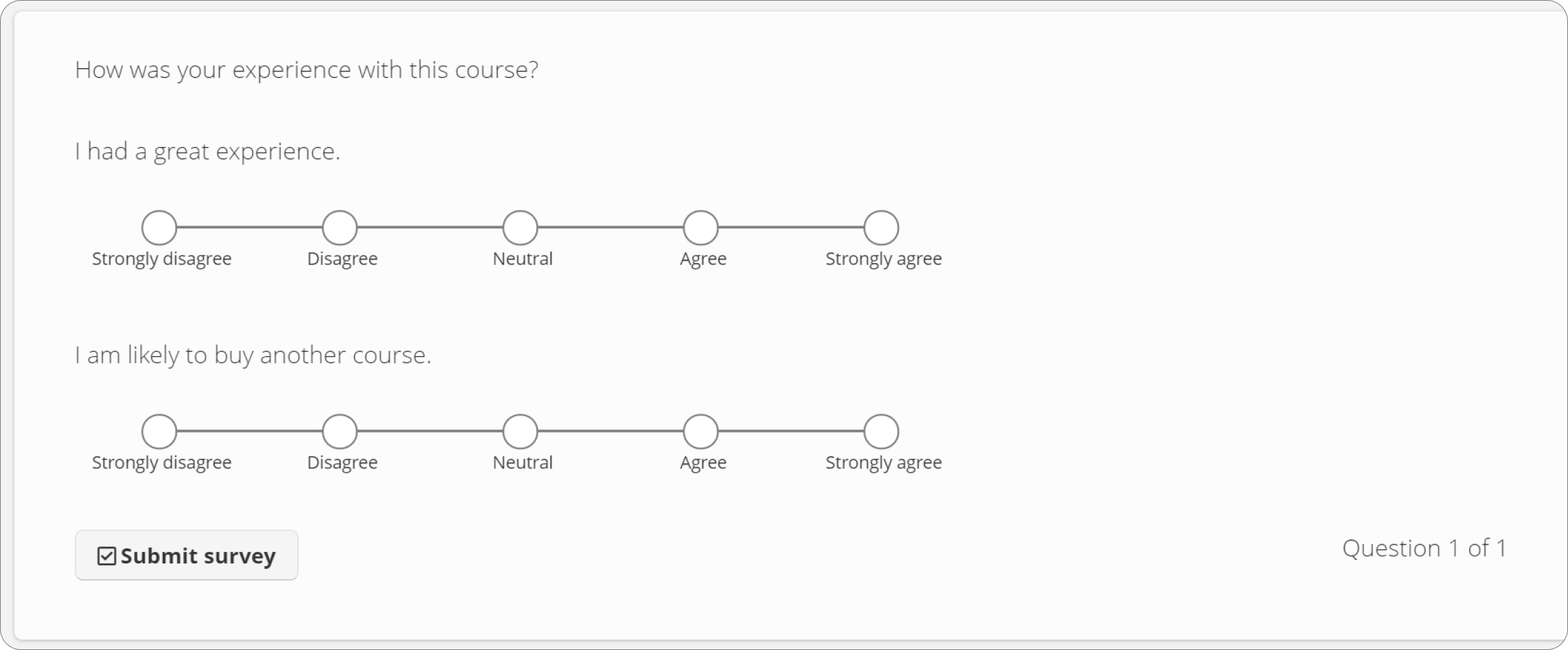 Note: Responses are read-only and cannot be edited by learners.