TalentLMS lets you organize your users in groups and assign one or more courses to all group members with a single click.
To create your first group, follow these steps:
1. Sign in to your TalentLMS account as Administrator, go to Home > Groups, and click Add group (1).
Note: Instructors can also access groups from their dashboard.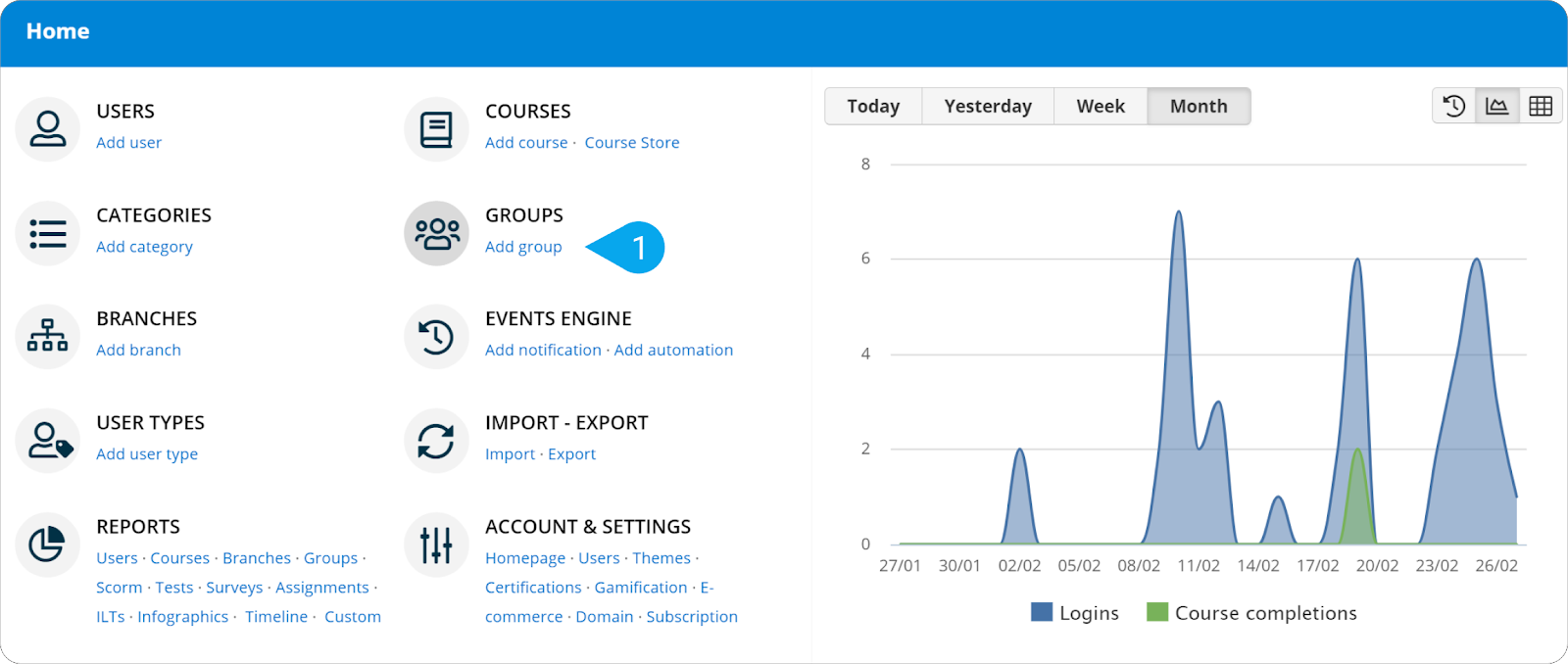 2. Type a distinct Name (2) (e.g., Startup courses) and a Description (3) for your new group.
3. If you want users to register themselves to the group, simply click Group key to generate a self-registration key (4). Then, send the Group key to users along with the simple instructions on how to self-register. (You'll find instructions at the end of this article.)
Note:
You can replace the generated key by typing your own key in the
Group key
field.
4. If you want to sell courses associated with the group as a course bundle, click Price (5) and type your preferred amount.
Note:
When you set a price for the group's courses, they are automatically listed in the
Bundles
section on the course catalog.
5. Click Add group to complete the process.
6. After the new group has been added, you're automatically taken to the Users tab on the group page. To add a user to your group, just click the respective add symbol (6) in the Options column.
Note:
If you have sent a Group key to the users you want in the group, there's no need to add them manually.

7. Go to the Courses tab to choose which courses the group members can access. To assign a course to your group, just click the respective add symbol (7) in the Options column.

8. Return to the Users tab to assign the selected courses to group members.
To assign all courses to a specific user, click the respective

add symbol (8)

on the

Synchronize users with courses

column.

To assign the courses to all group members at once, click

Mass actions

and choose

Enroll users in group courses (9)

.
Note:
If you need to unassign group courses from all members with one click, you can return to
Mass actions
and choose
Unenroll users from group courses (10)
.

How to activate the Group key for Learners
For users to be able to use the Group key, the related permission has to be active for their User Type (e.g., Learner-Type).
Here's how to activate it:
1. Go to Home > User types (1) and click the edit symbol (2) for Learner-Type.


2. On the multi-level nested list, under Learner, click Course catalog. If the Group key (3) permission isn't activated, check it.
3. Click Save, and you're all set. Now, your users can join a group by using the Group key.

How can learners join a group with a group key
To use the Group key a learner has to:
1. Sign in to their TalentLMS account and, click Join group (4) on the right-hand panel.
2. On the dialog box that pops up, type the Group key in the respective field.
3. Click Join Group.