Salesforce is a popular cloud-based customer relationship management (CRM) platform. If you have a Salesforce account, you can integrate it with TalentLMS through a native app. That way, you can optimize your customer management and let users access their courses through your CRM platform.
Note:
the TalentLMS Salesforce embedded app will only work in production, it cannot run in a Salesforce sandbox.
To install the TalentLMS Embedded app on Salesforce, follow this guide:
1. Sign in to your Salesforce account as administrator, and go to the TalentLMS package installation page.
Note:
If you don't have admin rights, ask your Salesforce administrator to install the TalentLMS app for you.
2. On the installation page, choose one of the three options:
- Install for admins only
- Install for all users
- Install for specific user profiles (1)
3. Click Install.
4. On the success page, click Done.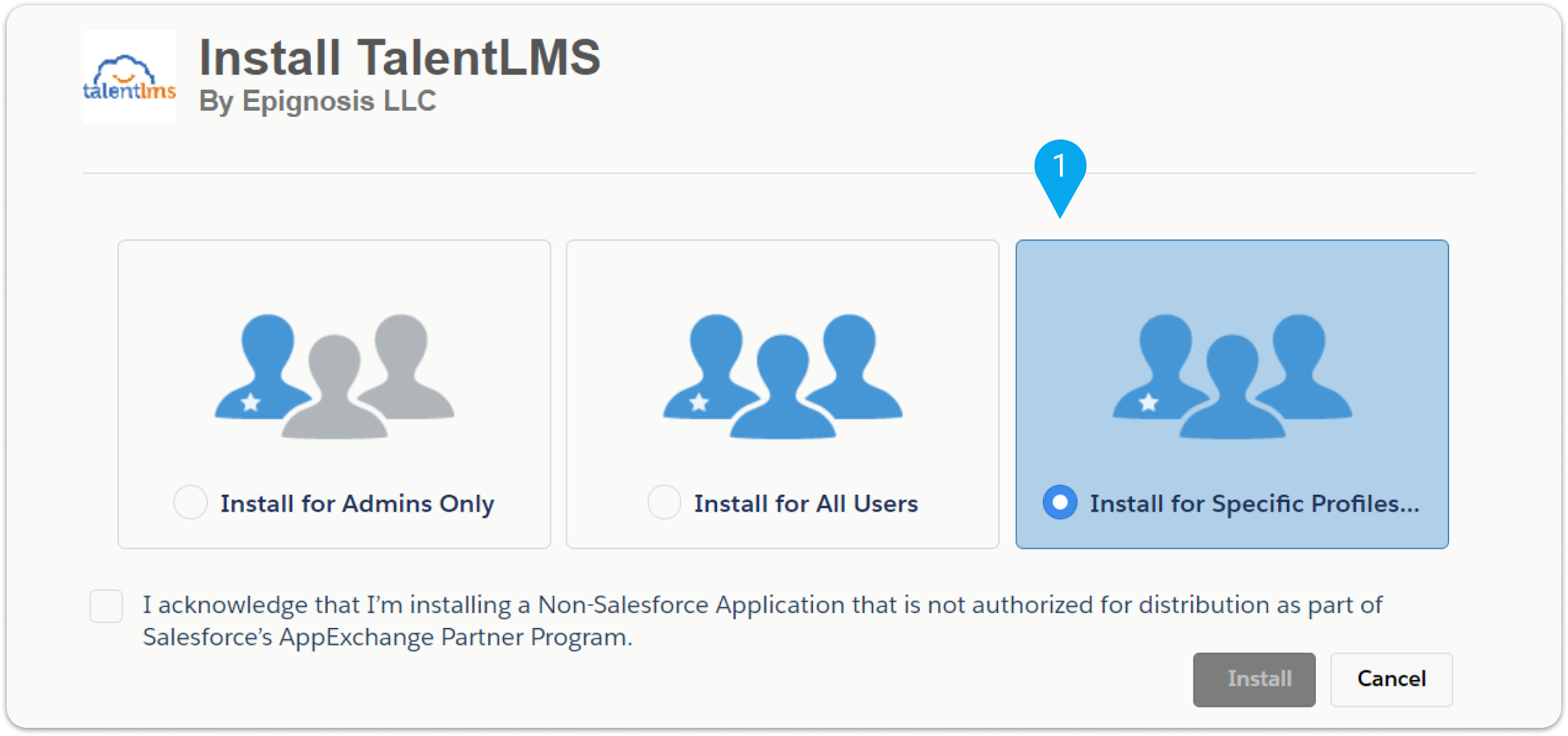 5. On the Setup page (1), go to Apps (2) > Installed Packages (3).
6. On the packages list, find TalentLMS and click Configure (4).

7. On the app configuration page, type your TalentLMS Subdomain (i.e., if your TalentLMS domain is "mycompany.talentlms.com," type mycompany) and your TalentLMS API key in the respective fields (5).
Note:
You can find your API key at the
Home
>
Account & Settings
page in your TalentLMS account. If you can't see it, just check
Enable API
in the
Security
section.
8. Click Save to complete the process.

9. When you access the app for the first time, Salesforce asks you for access to your TalentLMS account. Follow the link and, on the confirmation page, click Allow.
Note:
When a Salesforce user already has a TalentLMS account, they should be able to access their existing account automatically (provided the email address is the same in both accounts). If not, when a Salesforce user accesses the TalentLMS app for the first time, a new TalentLMS user account is created.