TalentCraft is powered by AI, and with its help, you can improve your texts and make them stand out to users. It can provide you with inspiration or enrich your ideas, as well as point out any mistakes you might have made or even translate your text so that you may reach users in other languages.
To use these options, highlight your text in your TalentCraft unit and click the AI (1) icon.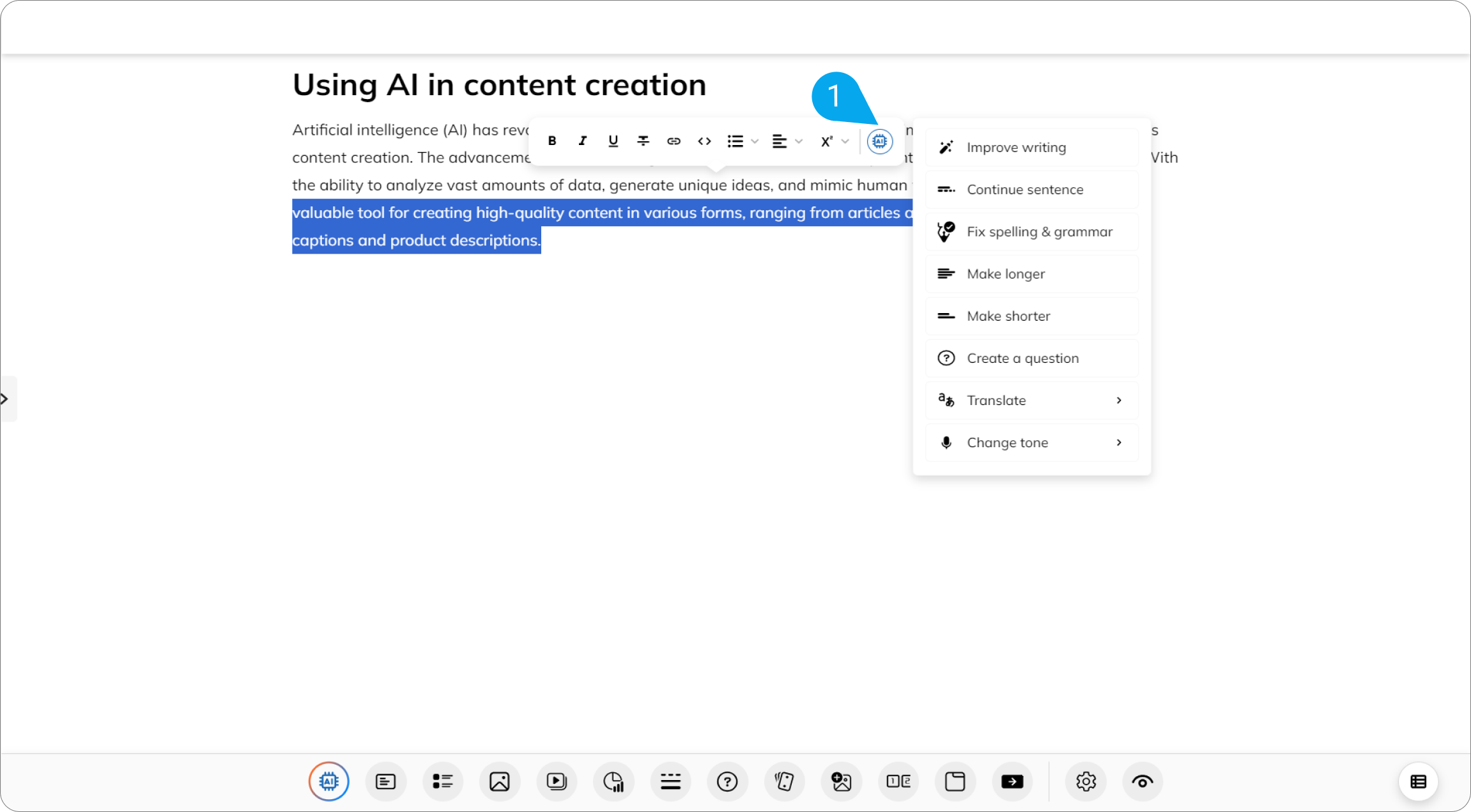 Here are the various options available to you with TalentCraft and its AI:
Improve writing: AI will enhance your text by using appropriate words and phrases to improve its quality and readability for your users.
Continue sentence: If you feel uninspired or can't find the words to finish your sentence, simply select it and use this option, and the AI will finish it for you.
Fix spelling & grammar: TalentCraft's AI can proofread your content and correct any typos or grammatical and syntax errors quickly and efficiently.
Make longer: If you think that your text is too short and want to add more context to it, let the AI do it for you, and it might add a sentence or two wherever it's needed.
Make shorter: On the other hand, if you feel your content is too much and your Learners will get tired of reading, AI can shorten it while keeping the important parts.
Create a question: If you want to create a question based on the selected text quickly, AI can do it for you and create a question block immediately after the block you are working on. The question will be created in the same language as the selected text.
Translate: Select the text you want translated and click the Translate button, which will give you the following options:
English, Chinese, Spanish, Korean, Japanese, Russian, French, Portuguese, German, Italian, Dutch, Greek, Indonesian, Filipino, and Vietnamese.
Keep in mind that the text you selected will be replaced with the translated version.
Change tone: Depending on the audience you are aiming for, you can have the AI alter the tone of voice in your writing. Choose between Professional, Casual, Straightforward, Confident, or Friendly tones, and go with the version that fits your needs.
Note:
If you need to interrupt the AI's operation at any point, click the Stop (2) button that'll appear while the AI does its magic. You can always undo the last changes with Ctrl + Z (Command + z in MacOS) to revert to the previous version of the text.
Keep in mind that depending on your selection, some options may not show up. For example, if you select a single word, only the options to Fix spelling & grammar and Translate will show up (3).