With TalentLMS+ Beta, we revamped the Administrator's and Instructor's interfaces and modernized them in line with the new Learner's dashboard.
TalentLMS+ Beta is a work in progress. As we are nearing 2024, TalentLMS+ Beta will gradually offer more options for Administrator and Instructor roles. Therefore, features like Reports, Import, and Unit types, like ILTs, Assignments, and Tests, will be added later on. At the moment, users have to switch to TalentLMS to access them.
Here, we present you with the key aspects of the new interface.
A modern Homepage
Administrators and Instructors can now access a brand-new, customizable homepage featuring role-related widgets.
More specifically, you can:
Drag and drop (1) widgets to rearrange them. They resize automatically to fit the new placement
Disable (2) those that don't work for you now and enable them at any time
Easily restore the default settings of the widgets

Note: You can preview the changes instantly and save or cancel them. You cannot disable the Overview and Quick actions widgets.
On the left-hand side, you will find the user-friendly sidebar (3), where all options are accessible. They dynamically change to reflect the user role currently in use. Click any option, and the relevant tab opens to the right.
The Home tab gives you access to the widgets and allows you to see an overview of the platform, users, the Timeline, and access Quick actions such as adding a user or a group.
To switch between roles, click Administrator and choose the role accordingly.
If you need more real estate, click Menu at the top to hide the sidebar.
Should you want to edit your profile information or change the color of the theme applied to your portal, click your name. Through the same option, you may log out of your account.
To switch back to the TalentLMS interface, simply click the Leave beta version (4) button.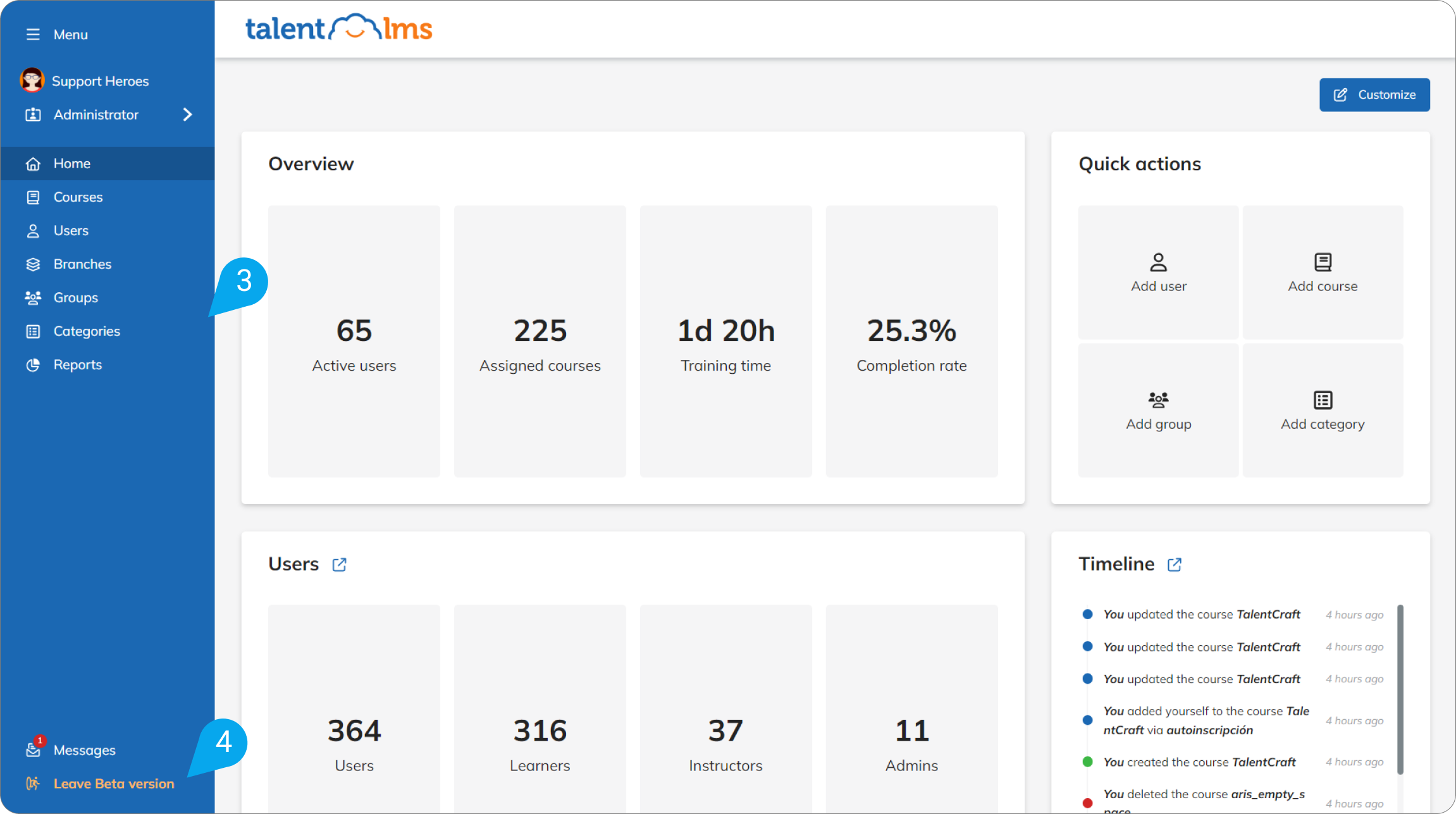 Improved course creation experience
Administrators can create courses seamlessly without switching to their Instructor role.
The Add course option is available to Administrators and Instructors:
in the Home tab via Quick actions
in the left-hand side menu, when you click Courses
Find out more about course creation in TalentLMS+ Beta in our detailed support article: How to create a course in TalentLMS+ Beta
Advanced content creation capabilities empowered by AI
Courses in TalentLMS+ Beta offer a new content creation tool, TalentCraft, which helps you add interactive course content enriched with AI-featured options. Instructors using the TalentLMS+ Beta exclusive feature can create engaging content really fast, really easily.
All Learners can enjoy TalentCraft content regardless of which interface they are using, TalentLMS or TalentLMS+ Beta. Find out more about TalentCraft in our support article: Getting to know TalentCraft
Note: Courses and units created in the TalentLMS+ Beta can be viewed by Learners via the old interface. However, Instructors can only manage some settings and test the content, but they will not be able to edit the content itself. For that, they will have to switch to the TalentLMS+ Beta interface.