With TalentLMS+ Beta and its revamped and modern interface, you can create a course and add content seamlessly from the Instructor's role as well as through the Administrator's role.
Here's how to create a course in TalentLMS+ Beta
1. Log in to your account as Administrator or switch to the Instructor (1) role.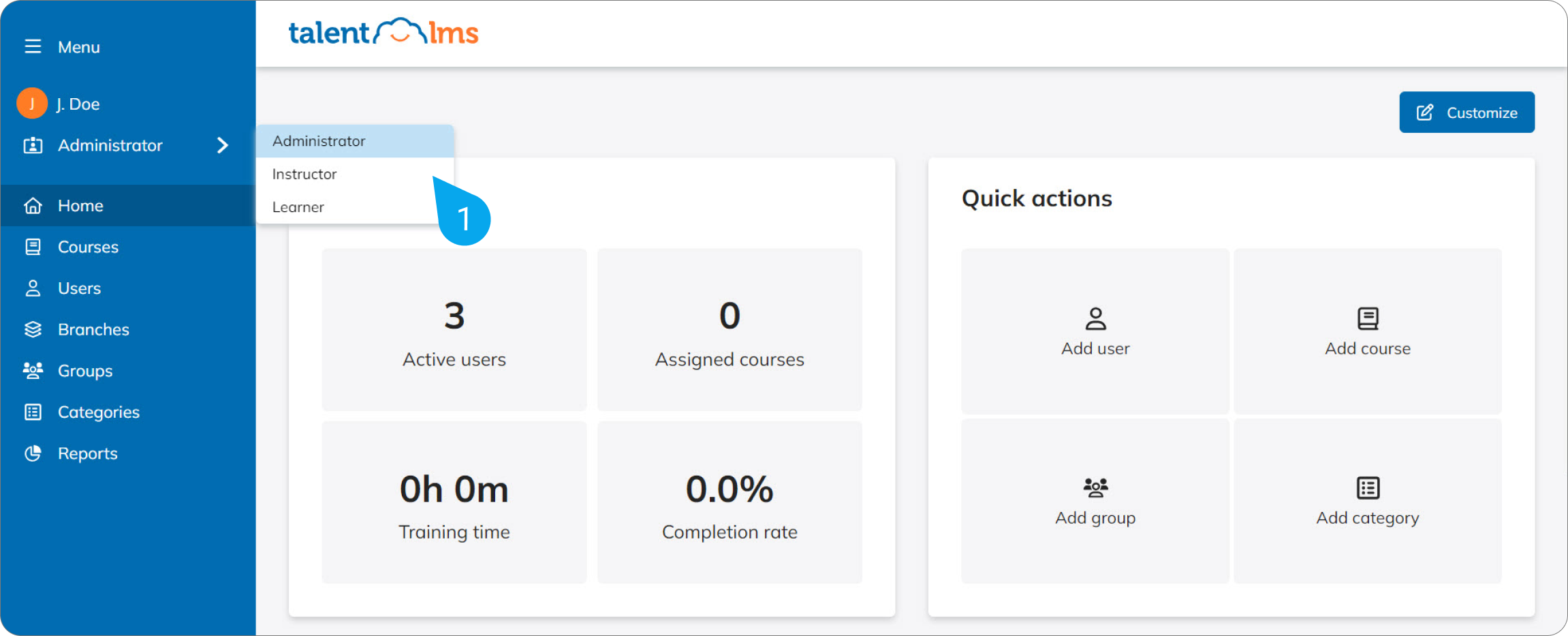 2. Click Courses (2) and then Add course (3). Your course will be added in Draft status by default.



3. Give your new course a name by clicking its title and description (4). You can also add a course thumbnail (5).
4. To add content, click the Add (6) button, and a pop-over menu will appear, giving you many different options:
TalentCraft: AI-powered content creation tool designed to empower you to create engaging, high-quality content quickly and efficiently. Find out more in our dedicated article
Standard content: the familiar types of content units, such as text, web content, video and audio, presentation and documents, or iFrame. More will be added in the coming months
SCORM | xAPI | cmi5: interactive content created by external authoring tools can be imported and displayed in TalentLMS+ Beta
Section: split your content units into separate sections
Note:
Only published units will be visible in the Content (7) area to the right.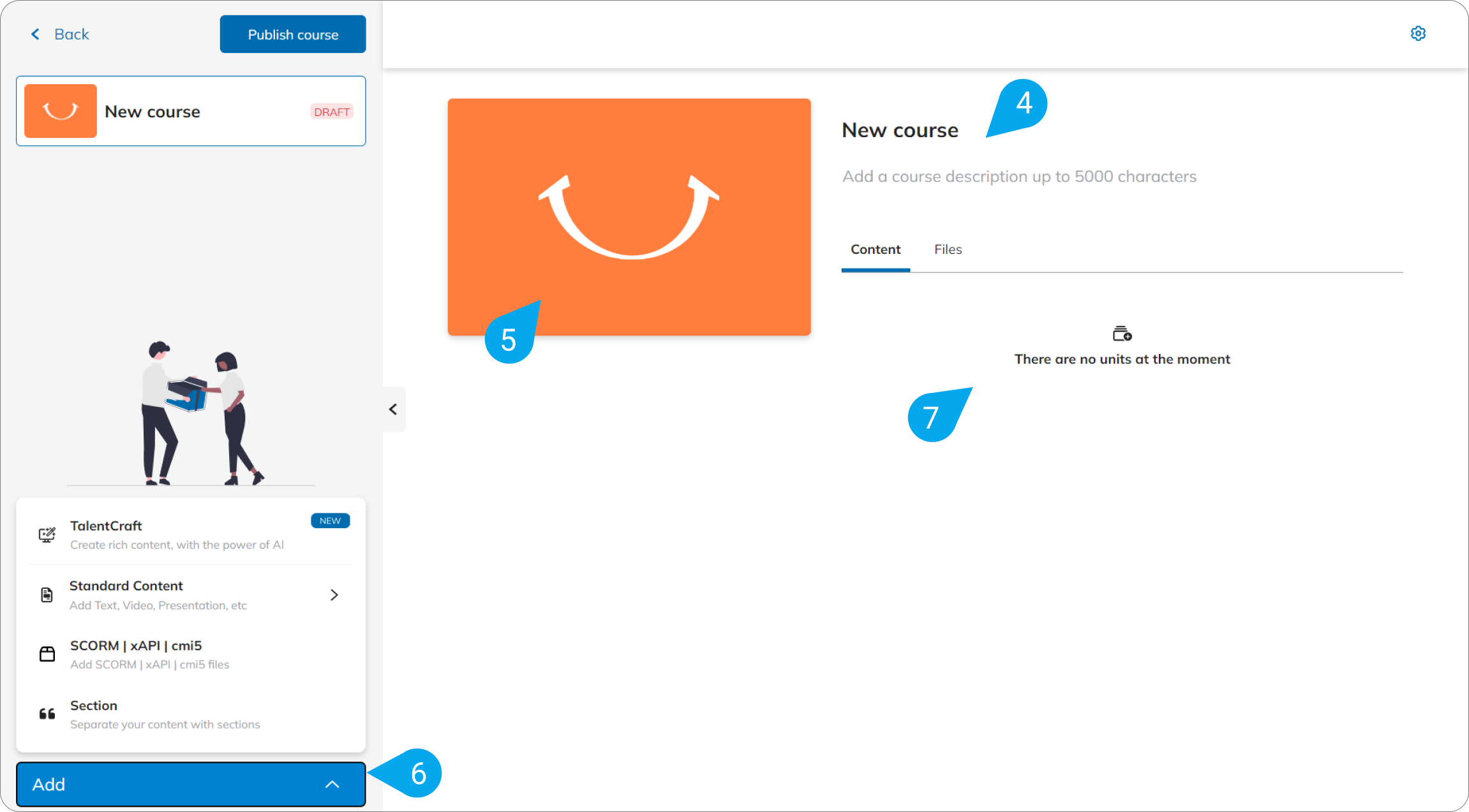 5. To add files, click the Files tab and upload or drag and drop them in the course.
Note:
All files you add to the course are shared with the course users instantly, and they can download them. You can remove file access from the Files tab on the main course page.
To manage your course settings, click Course options (8) on the top right and find all currently available settings about Course details, its Availability, and its Rules and path.
For every course unit added, click the 3 dots (9) icon to access the unit options to rename, publish, unpublish, or delete the unit. Any unit that is not published will have the Draft status next to it.
While you edit a published unit, the Unpublished changes status will appear. To apply these changes, click Update unit.
To reorder the units, hover over their icons (10) to the left and drag and drop them in the desired place.
A new course is added as Draft (inactive) by default, so click the Publish course (11) button once you are ready to show it to your users. Draft units will not be visible until you publish them.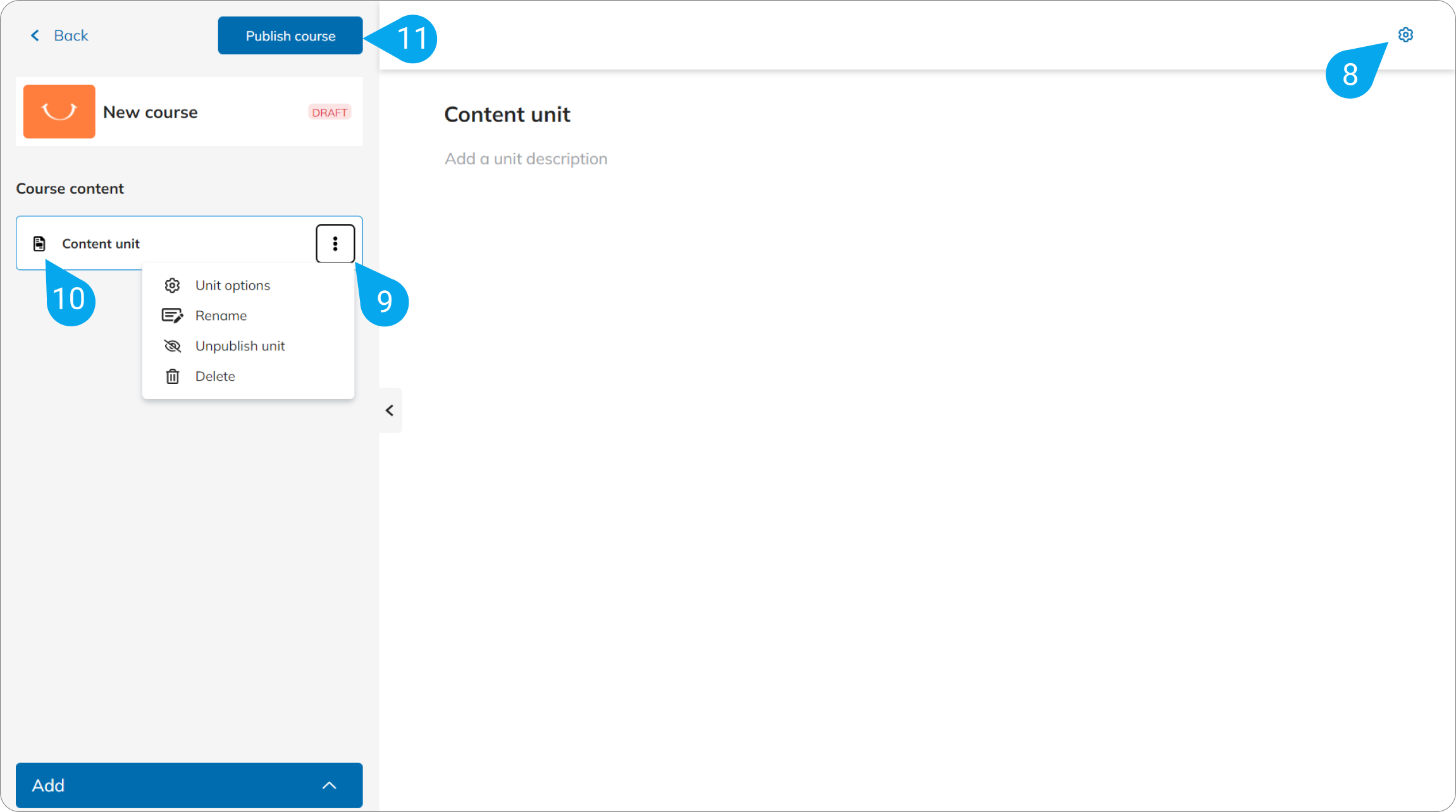 Note:
Courses and units created in the TalentLMS+ Beta can be viewed by Learners via the old interface. However, Instructors can only manage some settings and test the content, but they will not be able to edit the content itself. For that, they will have to switch to the TalentLMS+ Beta interface.